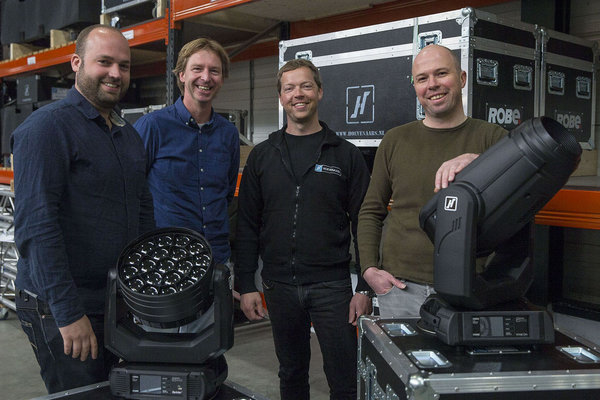 Twenty-four of the latest Robe VIVA CMY moving lights and 24 Spiider LED wash beams were delivered to Dutch rental company based in Nuenen.
Owner, Patrick Hoevenaars, explained the company's long association with Robe formed while installing lighting rigs in clubs and discos many years ago.
Hoevenaars who began his industry career as a DJ and sound engineer, founded Hoevenaars in 2000. The company now has 24 full time employees and provides full technical services, including, lighting, sound, video, rigging and staging – to a wide range of shows and events all over the Netherlands.
Recently, the company worked with a competitor brand before investing in LEDWash 300s in 2014. This latest purchase puts them firmly back on the map with Robe.
"The fact is everyone is asking for and specifying Robe, it's a great product to have, so we have made this initial investment," confirmed Hoevenaars.
In addition to deploying the new fixtures on their own productions, Hoevenaars utilised cross rental potential, partnering with other major Dutch rental companies based in the same area.
Impressed by the brightness, clarity and versatility of the products, Hoevenaars added: "We need fixtures that are multi-functional and multi-purpose – units that can be used to light anything from a banging dance event to a decorous corporate dinner. All round usefulness is top of the agenda".
Robe's Benelux distributor Controllux delivered the 48 fixtures.
The Spiiders were used immediately on a 2-day 5000 capacity party in the Brabanthallen, Den Bosch shooting all the way down the 80 metre long arena right from the back.
Hoevenaars said he regards Robe as "in the top five" of moving light brands worldwide right now. "They have really advanced rapidly in the last three years," he assured.