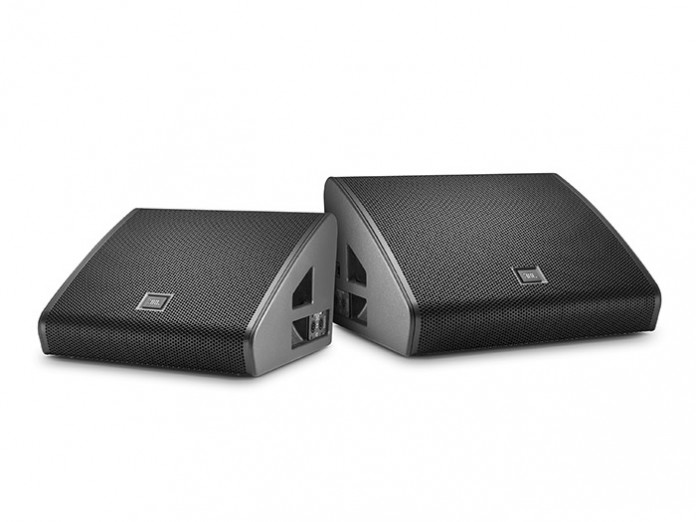 Designed with a low profile, the M Series utilises JBL's proven Neodymium Differential Drive woofers and D2 Dual Diaphragm high frequency drivers, along with a new high frequency Image Control Waveguide for excellent control and gain before feedback.
The new VTX M Series line is comprised of two models – the VTX M20 and VTX M22. The M20 features dual 10-inch woofers and a three-inch D2 compression driver, while the VTX M22 features dual 12-inch woofers in addition to the three-inch D2 compression driver.
"The M Series is the first dedicated tour sound stage monitoring line in JBL's VTX family of products," said George Georgallis, Product Manager, Tour Sound Amps, Speakers, & DSP. "Our goal when we started developing M Series was to create the best stage monitor products available. Working with some of the best monitor engineers in the industry, we came up with performance targets that would address their needs and overcome shortcomings of other monitoring solutions.
"To achieve our ambitious targets, we blended the best of JBL's proven technologies with several new components that were developed from scratch specifically for these monitors. As a result, these premium stage monitoring products are ready for the most demanding, highest output applications, and can compete with anything in the market today."
The M Series high frequency section utilises the D2430 Dual three-inch compression driver, which is also found in JBL's large format VTX V25-II Line Array system. The D2 driver is coupled with a newly developed 60 by 60 degree high frequency waveguide that has a unique shape, specifically tailored to M Series for stage monitoring applications.
The new waveguide is based on JBL's Image Control Waveguide, a technology originally developed for the JBL M2 Master Reference studio monitor. Coupled with the D2 Driver, it delivers a coverage pattern that is spatially consistent, allowing M Series to reach excellent gain before feedback performance.
The woofers in the VTX M Series utilise JBL's patented Differential Drive technology, allowing for excellent heat dissipation, low distortion and very high output. These Differential Drive Neodymium woofers feature dual three-inch voice coils, more than doubling the voice coil area of traditional designs. One of the features of this design is the unusually low weight, which make the M Series monitors some of the most lightweight in their class; nearly half the weight of some competitors.
The two woofers are supported by a bass-reflex enclosure with a large low frequency port, enabling the system to reproduce low frequencies down to 50Hz with minimal port turbulence and noise.
The M Series allows for both Dual-Channel (Bi-Amp) and Single-Channel (Passive) operating modes that can be set via the easily accessible selection switches. This reduces the cost per mix, allowing M Series to apply to a broader audience. When switched to Single-Channel (Passive) mode, an internal passive network is engaged that allows users to drive M Series monitors with a single amplifier channel, reducing overall amplifier requirements.
Unlike typical passively driven monitors, the M Series splits the speaker preset responsibilities between the amplifier DSP and the internal passive network. The external DSP is responsible for frequency response correction, phase response linearisation and component protection, while the internal network is only responsible for the component high-pass and low-pass filters. The combination of the internal and external processing recreates a typical Bi-Amplified speaker preset while only using one amplifier channel. The frequency, phase response and MAX output of the M Series is identical in both the Single-Channel (Passive) and Dual-Channel (Bi-Amp) modes.
Like all other JBL VTX products, the M Series is powered exclusively by Crown iTech HD DSP-based amplifiers, allowing for excellent performance and consistency across the world. In Single-Channel mode, a single Crown Audio 4x3500HD amplifier can power up to eight M Series monitors (in four independent monitor mixes), creating a compact monitoring system with excellent value.