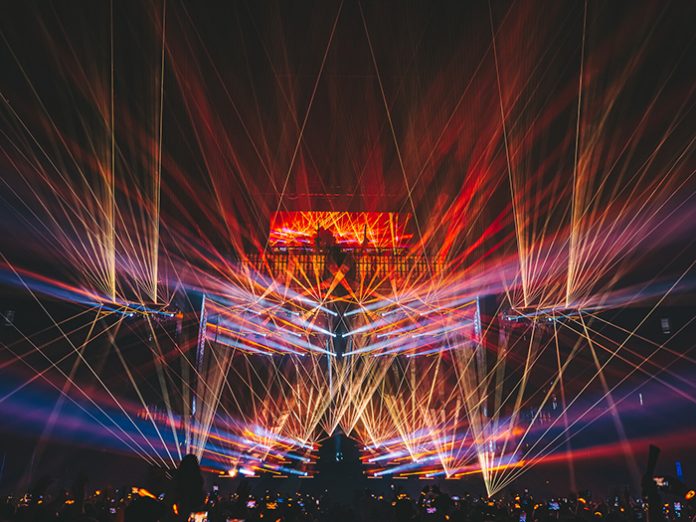 When musician, DJ and record producer Illenium played the first concert staged at the new Allegiant Stadium in Las Vegas, Lighting Designer and Programmer, Chuck Williams selected two MA Lighting grandMA3 consoles for lighting control for the innovative three-set, four-hour Trilogy show.
Illenium's pre-COVID-19 bus tour utilised a pair of grandMA3 desks as well. ACT Entertainment is the exclusive distributor of MA lighting products in North America. It's believed that Illenium is the first EDM artist in US history to headline a stadium show, and his performance of Trilogy at the biggest venue in Las Vegas drew some 35,000 fans. Trilogy pays homage to his three previous studio albums: Ashes, Awake and Ascend. His much-anticipated fourth album, Fallen Embers, launched a new musical journey with its 16 July release.
"We had a huge lighting rig on this show with almost 43 universes," said Williams, who owns Denver-based Nexus Productions. "We wanted the same console we really enjoyed using on Illenium's 2019 bus tour, so we chose two full-size grandMA3s, an active unit and a backup unit."
Brown Note Productions provided audio, lighting and video production for the show. "The console is so powerful and wonderful to work on," Williams continued. "It was a vital part of the show. I couldn't have performed at the level I did without it."
Brown Note President, Ryan Knutson believes that the MA Lighting grandMA3 "will become everything you would expect from the next generation of lighting consoles. Our consoles have been reliable and our clients love them!"
The three-set structure of Trilogy began with Ashes, which Williams likens to "an EDM version of MTV's Unplugged for its intimacy and connection with the audience. The set found Illenium performing FOH on a 20ft turntable lift with a circle truss framing the lift and lasers on the platform.
Williams used the spare grandMA3 located at FOH for this portion of the show. The active grandMA3 was deployed for sets two and three. Ashes got the party started on stage on the second tier of a multi-level platform featuring lighting, video, lasers and pyro. True to its name, the final set, Ascend, played on the third tier of the platform with the same equipment complement.
"There were no hiccups at all with the grandMA3," Williams reported. "The hardware is really nice; I enjoy the touchscreens, which are very responsive and go deep into programming. But at the same time, I also enjoy all the button layouts."
Knutson said: "We have enjoyed watching Chuck's success, and working with him has been a pleasure over the years. We look forward to continuing to support him with his projects."
Williams noted: "After COVID-19 made everyone in the industry feel uncertain about their futures, careers and companies, to be able to have our first show back be something on this scale was really incredible. Allegiant Stadium is absolutely beautiful; it's the nicest property I've ever seen, and I hope to come back soon."