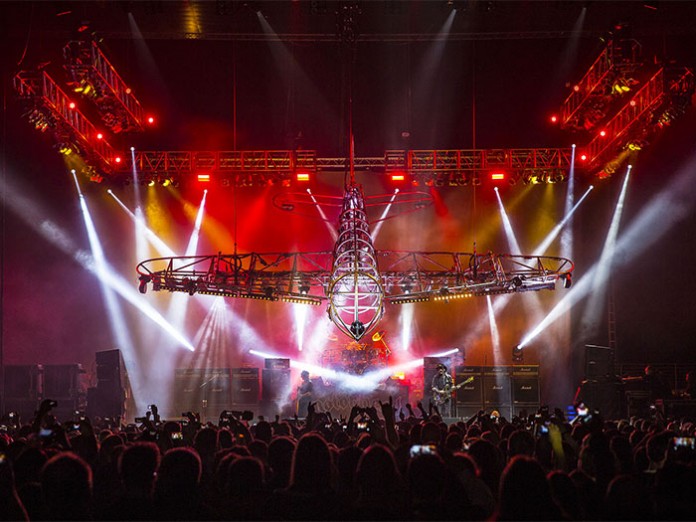 UK based lighting rental company GLS was proud to have supplied lighting equipment and crew to Motörhead's final 'Bad Magic' tour which ended in Berlin in December.
No-one knew at the time, but that was to be the last gig for the legendary heavy metal band whose incredible 40 year career ended with the passing of its iconic leader Lemmy (Ian Fraser Kilmister) aged 70 on 28 December 2015, just two and a half weeks after he rocked Berlin at his last public show.
While Lemmy's lifestyle epitomised rock 'n' roll, his music inspired several generations of and genres of 'metal' to follow and character, his original thinking, wit and to-the-bone humour won him fans worldwide.
'Going out with a bang' in true Motörhead style, the final tour featured one of the most iconic stage props – the Motörhead bomber – flying for the first time in years.
The "fast-and-furious" 'Bad Magic' lighting scheme – matching the dynamic of the music – was designed by Caio Bertti, based in Sao Paulo, Brazil, who had worked with the band for around 18 months, and the last in a long line of bomber pilots was Jamie Catt. The tour and production was managed by Eddie Rocha, who is also based in Brazil.
GLS – a new member of the HSL Family – MD Ian Turner stated, "While we were all gutted when we heard the news, it was simply fantastic to have been involved on the road with Motörhead again.
"The lighting and the bomber looked amazing, making it arguably the best Motörhead show yet in terms of production values, enthusiasm and sheer performance. The bomber was simply stunning to watch.  It was the first and, in my opinion, still the best moving truss piece ever!"
The bomber – an industrial-strength "metal-tastic" stage prop – had been completely refurbished with new lighting ahead of the tour, including moving lights for the first time, and a new certificate of airworthiness, running on Kinesys automation.
This gave it vastly more manoeuvrability plus the ability to track up and downstage by seven metres, nosedive, pitch and roll quickly from side to side, all bringing lots of extra drama and excitement combining with the full force of the music!
The bomber was also the starting point for Bertti's brand new lighting design. Weight loading considerations – as the original metalwork is quite substantial – meant on-board lighting had to be chosen very carefully, so fixtures needed to be as multi-functional as possible allowing him to maximise the looks. Robe's Pointes were chosen for the task.
The four Pointes rigged on the wings were joined by four Robe LEDWash 600's, eight Showtec Sunstrips (active) outlining the eight metre wingspan and a retro tribute that no Motörhead bomber could have been without – four bars of 4 ACLs, two two-cell Moles and four single PAR 64's.
Its four propeller lights were vintage custom fixtures dating back almost as far as the 36 year old bomber itself, which were fitted by GLS's technical department.
It flew twice on the tour – first during the set opener and eponymous "Bomber", then in the finale "Overkill" which brought the full-tilt performance to an ear-shattering crescendo.
The rest of the lighting design was evolved around the basic brief for a simple, powerful, in-the-face, LOUD and uncompromising rock 'n' roll show.
"Anyone in the industry can recognise a Motörhead song from three chords," commented Bertti, "and so I wanted them to be able to do the same with the lightshow."
To that end he made it very clean, with direct, distinctive and definite colour combinations – no more than two at a time – mixed with lots of beam technology and nano-second timing as he ran the show totally 'live' on the flash buttons.
Another big influence on the design were the practicalities of being able to get the rig – including the bomber at all the larger gigs – in, rigged and ready on time for a 2.30 sound-check each day.
When flown into its 'home' position, the bomber formed an effective mid truss, with two staggered side trusses surrounding it plus an upstage and a front truss.
The front truss was rigged with four Robe LEDWash 600's and four 600E Spots for key lights along with eight 8-lite blinders for audience immersion.
Spread across all the other trusses were 16 Pointes, 48 LED PARs, eight Clay Paky Stormy colour changing LED strobes and a shed-load more standard PARs and ACLs.
Positioned on the floor were another six Pointes, eight LED PARs, additional generic PARs and ACLs, eight more Stormy colour changing strobes plus four Robe atmosphere generators – two hazers and two smoke machines. Atmosphere was instrumental to the visual equation with all those beams.
Bertti ran the show on an Avolites Sapphire Touch console with a Titan Network Processor (TNP). Having been raised on Avo and used the brand for many years on Sepultura, and with the Motörhead lightshow being run completely live, it was his control platform of choice.
"The Sapphire is great," he commented, "It has all the new generation lighting control features you expect, but with that fantastic 'old-skool' hands-on ergonomics and tactility at which Avo has always excelled."
Before coming on-board with Motörhead, Bertti lit Brazilian metal heroes Sepultura for many years, so the metal aesthetic experience was already in place, and he knows Swedish LD Stefan Sjoland, who, when he had to leave the Motörhead live creative team, put Bertti up for the LD job.
Bertti is also a director of leading Brazilian rental company LPL, and so knows a thing or two about what to expect from the rental companies he works with when touring internationally.
Commenting on GLS he said, "They are all fantastic people! We share the same attitude and passion for the industry, the same dedication to ensuring all the little details are correct and to getting it right every time. My crew were fabulous and it is a real pleasure working with everyone at GLS."
Joining Bertti on the road from GLS were Crew Chief Karen Brown, Lighting Technician Chris Randall and Jamie Catt who also co-ordinated all the automation elements.