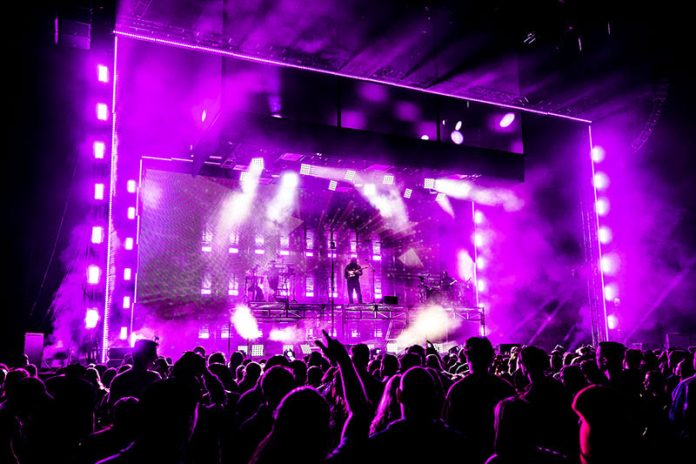 alt-J unveiled their new tour in support of their latest studio album, The Dream. Creative collective FragmentNine, which has been designing their shows since 2014, was again tasked with the show's scenography – abandoning the 'volumetric video' ingenuity of 2017's Relaxer, which won them a Knight of Illumination award. This time they adopted a completely different direction, in cooperation with the band's long-time manager Stephen Taverner, according to FragmentNine (F9) co-founder Jackson Gallagher.
What both tours have in common is heavy use of GLP impression X4 Bar 20s – this time accompanied by quantities of JDC1 hybrid strobes – but this time in an entirely different application. "X4 Bars are real workhorses – these and the JDCs are regular go-tos for us," confirmed Gallagher.
However, Taverner had imagined a more delicate and airy performance than the 2017 confection. And so wrapped in over 1,500sq ft of holographic projection fabric, the band performs inside a box that transports them through many different worlds throughout the evening.
This has been implemented by F9's Gallagher and co-founder Jeremy Lechterman, along with F9 vice-principal Michael Hankowsky, in response to Stephen Taverner's brief. From a video perspective, once they had sourced the most suitable fabric – Hologauze-50 – they opted for front and rear projection in preference to LED to create the holograms proposed by Taverner. 
Instead, the role of LED was relegated to a conventional video wall behind the cube, following projection tests at Upstaging, the lighting and video vendors for the tour.
Gallagher notes that since the band is fairly static on stage, containing them within a box creates a slightly edgy sensation. "We endeavoured to create little vignettes through light and video to support the subject matter without being too 'on the nose'," he said.
Although there are little over 100 GLP X4 Bar 20 and JDC1 taking on most of the workload, their importance cannot be overstated. Other than a few effects contained within the box, the GLP pieces are entrusted with holding their own to complement the main holographic box. "Although there is a lot less lighting than on the previous tour, the show still has a sizable package capable of high impact," added Gallagher.
In terms of structures, there are two horseshoe-shaped goalposts – one upstage, one downstage – all lined with X4 Bar 20s, run in single-pixel (88-channel) mode – with JDCs on the sides of both goalposts. There is a further grid of JDC1 situated behind the LED wall. "And these really punch through," commented Gallagher.
Hankowsky adds that everything is run in single-pixel mode and notes the versatility and additional functionality offered by activating the different plate sections of the JDC1. These are also used as eye candy and as a twinkly effect from the LED wall at the rear. As for the X4 battens, in addition to simply edging the cube, they are being put to more creative use. "In a couple of songs, we take a section and put them into diagonals and use them as FX, whereas for the song Matilda, we use the Bars for backlight instead of eye candy," he explained.
The core of the control package is again provided by regular collaborators Liteup Events, with co-founder Mark Callaghan repeating his duties as crew chief. The touring lighting operator is Dave Singleton.