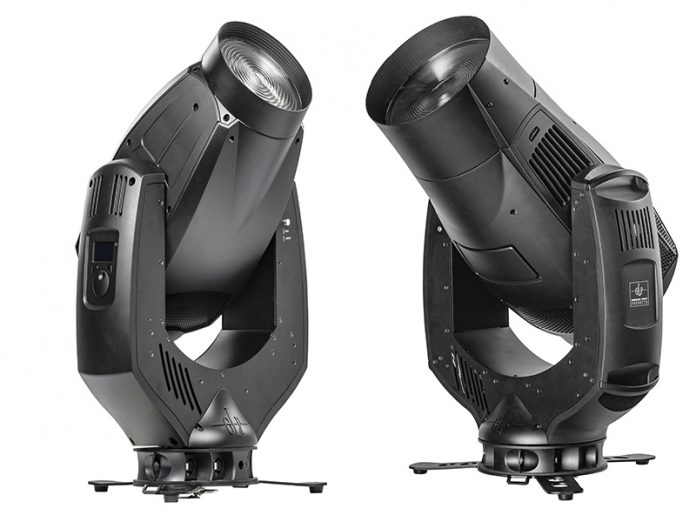 GLP  will unveil two more products – HIGHLANDER and Impression S350 Wash – at Prolight + Sound 2019.
The HIGHLANDER from GLP is a singular fixture that brings a new level of high-performance, high-output and high-quality from a compact discharge source fixture with a superior optical system. Using a 1,400 Watt lamp and outputting through a large 230mm /9-inch front lens, the GLP HIGHLANDER delivers a truly massive light output, without ever sacrificing quality. With a native colour temperature of 6000K, the HIGHLANDER optics have CRI, CQS and TM-30 quality indices, all measuring 90 and above.
The HIGHLANDER's high output optical system features a motorised 7:1 zoom/focus combination, with punchy 5° beam angle and up to 63° smooth field angle with focus link. Beam control is available through an independent and snappy motorised iris, but also through a full feature framing system. This framing system gives 4-blade control with each blade being able to tilt on its axis and cross the entire beam like a curtain. With separate control over each blade, the beam can be controlled down to the finest detail and recalled in an instant. The entire beam framing system can also be rotated through a 90-degree range for optimum control. A glass, dichroic based cyan, magenta and yellow colour system gives a full pallet from the softest pastel shades to full saturation and anything in between.
This is supported by two separately controlled colour wheels, each with seven colour positions plus open. An additional colour temperature filter provides convenient correction of the base light colour from 6,000K to 2,500K. All combined, this gives the GLP HIGHLANDER a comprehensive colour range adaptable to any colour temperature environment that it gets placed in. Additional control features of the HIGHLANDER include smooth dimming with multiple user-selectable curves, separate shutter control with built-in macros, fast 16-bit pan and tilt movement and low noise operating modes.
The GLP HIGHLANDER is designed with a compact, baseless design that allows it to be hung in any orientation. Power is connected via Neutrik True1, whilst data is connected via 5-pin XLR or Ethernet, with DMX, ArtNET or sACN as available control options. The HIGHLANDER runs flicker free and has numerous additional convenience features including a battery-powered control system for addressing and configuration without mains power; an auto-sensing power supply; four carrying handles and a comprehensive set of rigging options. This, combined with its low weight of just 29.5 kg / 65 lbs., make the GLP HIGHLANDER a truly versatile workhorse. Power, control and capability all come together in the GLP HIGHLANDER, raising the level of performance for designers needing a high output washlight.
The impression S350 Wash from GLP brings a new level of control and functionality to the mid-range LED washlight market. At its core, the impression S350 Wash utilises GLP's class-leading white light LED engine, also used in its spot counterpart, the S350, and features a CRI of more than 90, with TMS-30 and CQS measurements of 96 for superior colour rendering at its native 6000K colour temperature. The S350 Wash uses a Fresnel-based optical system with zoom optics that give a range from 8 to 50 degrees for the broadest range of flexibility. At any angle within the zoom range, users have access to a full 4-blade curtain framing system, where each framing blade can cross the entire beam independently for a full blackout. Combined together, any combination of the blades – including the ability to rotate the entire assembly through 90 degrees – allows the user to focus the output precisely and accurately onto the performance area, with complete accuracy when returning time after time.
For further beam control, a high-speed iris is also included for additional options and effects. The colour engine of the S350 Wash is the same as its spot partner, the impression S350, allowing full-colour matching and variable colour temperature control for seamless blending across unit types. A wide pallet of colours is achieved through a dichroic CMY system that is supported by a fixed colour wheel containing 10 slots, plus its open position.
Also included is a variable colour temperature control system that allows a full range from 2500K to 8000K to be selected at any time. Beam control of the fixture output is available through an electronic shutter channel, with variable speed settings, whilst GLP's stunning, custom created dimming technology offers full range dimming with the smoothest transitions at all intensities and through even the slowest fade times. Destined to be used in a wide variety of applications, including noise sensitive theatre and television settings, the impression S350 Wash has been designed to run with near silent operation in normal use, and cannot be heard at its lowest settings.
The units broadcast compatibility is supported with a full range of PWM settings for global cameras and studio environments. As with every fixture in the GLP impression range, the S350 Wash features a baseless design that reduces both size and weight, giving the fixture a total weight of just 25.5 kg / 56 lbs. and a size that allows it to be hung in very confined spaces.
The impression S350 Wash has connectors in its base section for power via a Neutrik True1 connector with full auto-sensing power. For data, there are XLR 5-pin and RJ45 connectors for DMX, Artnet, sACN protocols with support for RDM throughout. The impression S350 Wash can be mounted in any orientation and contains threaded sockets in its base for direct coupler connection, with in-built safety point attachments, and comes complete with a tripod floor stand, if being mounted on its base. Available for purchase in either cardboard box packaging or in a rugged flight case, the impression S350 Wash comes in black as standard but is also available in other custom colours upon request. With this fully packed feature set and its proven LED engine pedigree, the S350 Wash is the premier solution for mid-range washlight applications. Both products, as well as the rest of the range, will be showcased from today at Prolight + Sound on GLP's stand (Hall 12.1, D36).