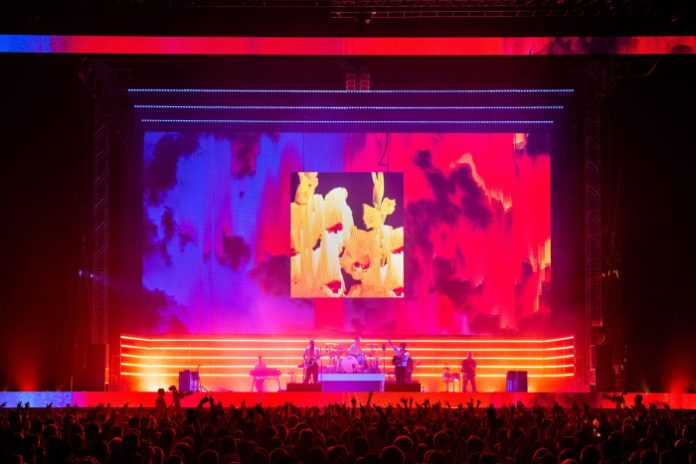 When Cassius Creative first got its hands on GLP's then new JDC Line 1000 some 18 months ago, the world was in lockdown and the band they were lighting – psych-pop act Glass Animals – were presented to their fans as an internet live stream only.
The event was widely acclaimed, not least by Foals' lead singer Yannis Philippakis. The outcome is that Cassius Creative (collectively Chris 'Squib' Swain and Dan Hill) has been brought on board for the first time to light a European tour which included four sold-out nights at London's Olympia, and which is overseen by production manager Mark Jones and crew chief Scotty Owen.
Cassius Creative's first port of call to provide counterpoint to a video-heavy show was the JDC Line 1000 – but this time in much larger quantities.
To fulfil the inventory of 140 fixtures used as the backdrop, vendor Lite Alternative made a large investment in the hybrid fixture, which combines a powerful strobe line with a unique LED pixel-mapping stick.
At the same time, Cassius Creative has long favoured GLP's battens – first the impression X4 Bar 20 and more recently the chunkier impression FR10 Bars, some 48 of which have been deployed overhead on a flown rig.
Squib explains how the JDC Line came to be adopted in such quantities: "Glass Animals was the first time that we had used the Lines but that was a last-minute decision, giving us in effect a chance to sample the product. We knew that when we were ready to use them again, we would do so in large numbers."
Philippakis himself, along with production manager Mark Jones, discussed the design in a series of virtual meetings. "In fact, the first design we produced was very close to what we ended up with, just reining in some of the fixtures for budget and practicality reasons, continued Squib. "It's a very clean, very contemporary look and a lighting rig that frames the video content perfectly."
The JDC Lines form the three-sided back wall in strips measuring 16m wide, 5m high and with 3m returns. This is set behind the band, beneath the video wall, and runs in full-pixel mode. "We like the pixel control this offers, along with the output and brightness," he added. "It looks sleek, providing loads of flexibility with dynamic energy and FX. We wanted to use them as intricate and dynamic pixel effects, but since Foals are an energetic band we wanted the power strobing capabilities as well."
Another tour prerequisite was that production had to be sufficiently nimble to take onboard the varying venue sizes. In terms of scalability, there were four or five different rig scenarios. "The JDC Lines are on dollies which helped enormously in that regard," said Squib, at the same time paying credit to Lite Alternative Account Handler, Andy Scott. "They have been excellent," he said. "Foals are an historic client of Lite Alternative and we would certainly work with them again. They offered a full-production service."
Lite Alternative also provided the impression FR10, each batten comprising 10 60W RGBW LED sources. These are set across three trusses "with 16 metres worth of FR10 per truss," according to Squib. These function as both top and back lights, casting sheets of beams over the band. "It's the first time we have used them and we will also use some again on the Years and Years tour. We will continue to use the X4 Bars, but these are bigger, they provide more output from a bigger lens, and are generally chunkier."
Dan Hill took responsibility for programming in pre-visualisation, while Mark Thornton is the touring lighting operator piloting the show from an MA Lighting grandMA3 console.
Reflecting on the thoroughly successful deployment of GLP fixtures, Squib concluded: "GLP is one of the companies redefining the batten for the modern era, as there has been a gap in the market for too long."