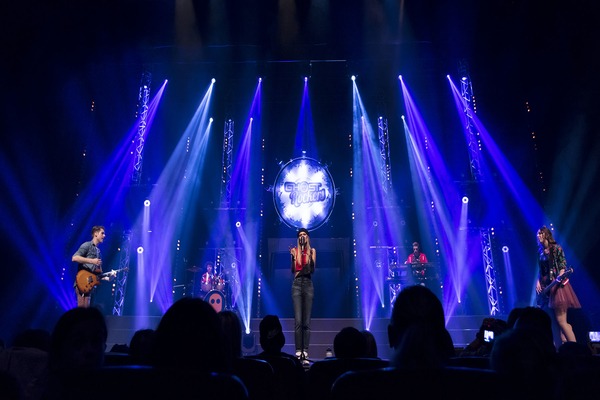 Belgian TV series Ghost Rockers, produced by Studio 100, hit the road for a series of gigs, supported by Painting with Light's Paco Mispelters, who utilised 48 active Showtec Sunstrips.
The various Showtec Sunstrips were rigged in 10 continuous and broken columns, and to 4 vertical trusses at the back. While the far upstage witnessed the band's scenic logo rigged and illuminated with its own set of LED PARs.
Overhead, 4 motion controlled trusses provide architectural contrast, including additional Robe Spiider LED wash beams as primary wash fixtures. The base washes comprised 21 Robe Pointe multi-purpose moving lights, 6 deployed on the floor in front of the stairs and 4 upstage, which assisted the set's 3D appearance. A further 11 Robe Pointes were on the overhead rig in 2 layers, with a line of 7 and a line of 4 fixtures.
"It's a hugely versatile light," stated Mispelters. "Using the frosts, it became an excellent wash as well as a beam and spot fixture with an impressive array of gobo choices, still powerful and punchy even when combining multiple effects".
As the main band keys and profiles, the LD opted for Claypaky Alpha Wash 1500s, 3 on the front truss and a 2 further upstage, overhead for drums and keyboards; 10 single-cell blinders on the rear towers provide additional accenting, with the trusses toned with LED PARs fitted inside.
Six Chauvet Professional Geyser vertical-jet smoke machines with inbuilt LEDs are another special, 4 on the floor and 2 on the rig, and adjacent to the ones on the floor are 4 flame jets. All of these are controlled via the grandMA2 light console. The lighting kit was supplied by leading Belgian rental company Phlippo Showlights, while control including a Christie Pandora's Box media server, by Painting with Light.
"It was all about adding value and not taking over the performance," concluded Paco. For this production, he was assisted by design associate Carlo Zaenen, Video Programmer Katleen Selleslagh and Programmer and Operator Arjan Grootenhuis, who is out on the road as Lighting Director with the tour.