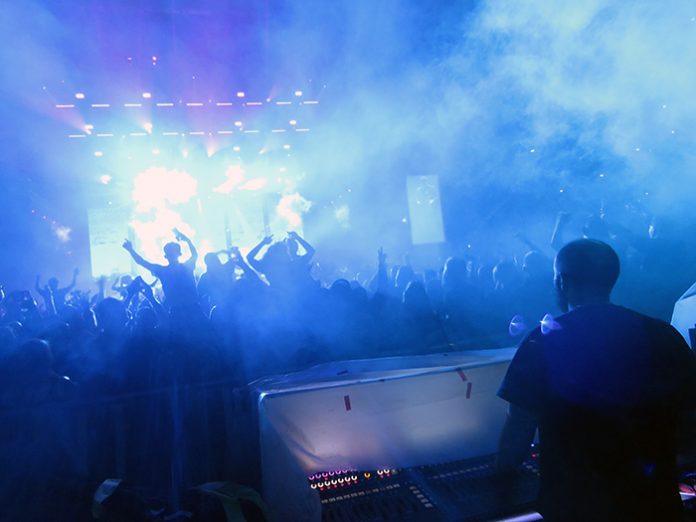 Monitor Engineer, Martin Capaldi and FOH Engineer, Will Nicholson hit the road with Gerry Cinnamon throughout 2021 following the resumption of live shows post-pandemic. The shows marked some of the first in the UK to use DiGiCo's new Quantum 338 at FOH, with an SD12 on stage, both supplied as part of the audio package by the production's rental company of choice, Wigwam Acoustics, part of the Solotech Group.
"I've been working with Gerry on and off for over 10 years in a couple of different capacities, but I only came on board to start doing monitors for him in May 2019," said Capaldi. "The first shows with Gerry this summer were the Leeds and Reading Festivals, the penultimate slot before Liam Gallagher, so the pressure was on – we had a couple of blocks of pre-production but there is nothing like going into a festival slot like that, on a gig of that size, with no previous shows!"
Capaldi had used various DiGiCo models over the years, but mainly as house desks. His first show with Gerry was on an SD11 in Cork supporting Liam Gallagher, with only a couple of days to find his way around it and a lot of learning "…on the hop". Moving on to an SD12 was the logical step up from the SD11, providing access to more faders quickly as is his preference. 
He runs Cinnamon's shows with all the inputs on the left fader banks and outputs on the right, making it easy to jump between mixes while still being able to access what's being sent to them, whether IEMs or floor wedges. "Going forward into next year, I'm looking into possibly moving to Quantum 5 as I've always been a fan of large analogue desks and this would feel more suitable with more faders, more screens and more going on in front of you," Capaldi said.
Cinnamon's band requires around 64 inputs (including shout lines) and Capaldi's mix utilised about 37 outputs with a mixture of stereo IEMs, floor mixes and shout sends. He highlighted his experimentation of 'ducking' for shout mics on this tour – making it much easier for him to get information clearly and first time from any backline technicians or production crew that has to be either relayed to Gerry or the band, plus key elements of the show that may need to be addressed during or in between songs.
Capaldi has also started to use the onboard UB-MADI connectivity for multitracking. "I wasn't aware that the SD12 came as standard with a UB-MADI out that could be used for this purpose, but this is a great feature not only for multitracking shows, but also for running virtual sound checks," he stated.
The road can be a harsh environment for touring gear, but Capaldi's SD12 has dealt with it well. "I'm very happy with the durability and the operation of the desks," he reported. "Also, being so flexible with layouts, the routing and customisation is excellent with DiGiCo's range. As far as I'm aware, I will be on the road again with Gerry next year and I'm very much looking forward to the next chapter. As I mentioned, I'll be looking at Quantum 5 if I can in 2022."
Meanwhile, at the other end of the digital multicore, Nicholson – who also mixes FOH for Dua Lipa – was evidently a fan of his new client. "Gerry's lovely, a real pleasure to work for: he's added the band, moved into some big rooms and next year is a big deal as he's doing stadiums."
Their first show together was Leeds Festival where he was the main support on the main stage in front of an audience of 50,000. "It was cathartic from a personal perspective," he recalled. "Things are starting to pick up and to come back off the last 18 months and work for an artist like Gerry was special. He's so positive, so full of life – he's a brilliant performer and seeing a festival crowd singing their hearts out was very affirming."
The choice of DiGiCo was Nicholson's, following direction from production to hire what he wanted and though rehearsal time was minimal, he is able to work quickly on a DiGiCo. Wigwam Hire Manager, Tom Bush offered him a Quantum 338, which could more than accommodate the number of inputs required for the shows.
Nicholson is mixing around 54 inputs with Cinnamon and his band. The musicians move on and off stage during the show and he uses the console's automation heavily to take into account the fluidity of the lineup and the nuances of the set. His outputs run straight into the PA and he also used a UAD-2 (MADI effects processor) patched in via an Optocore DD2 FR and a selection of outboard via an SD-MiNi Rack.
FOH is sometimes more exposed to the unexpected challenges of touring sound than monitor world, none more so than in this case. "The build of the board is terrific, Gerry is a wet gig and a lot of beer gets thrown," Nicholson explained. "I had a beer cover out front which Wigwam made, but looking at the screens becomes trickier as I have to pull it further down." However, the miniature TFT screens above the faders on the Quantum 338 proved incredibly useful as Nicholson could cover the majority of the desk, protecting it from flying contaminants and still see his metering.
"DiGiCo's Mustard Processing stuff is also excellent," he added. "With an artist like Gerry, who's singing contemporary songs that have a real place in the lineage of rock and folk music, having the ability to colour the sound exactly how we wanted within the board was a big step forward, and whenever it's needed I get the usual top support from DiGiCo. The screens and the feel of the surface is lovely, it's like driving a new car!" 
He concluded: "Gerry is a unique artist. No one else does music like him – he doesn't have a label, and his success is down to his own hard work. He has such a positive attitude to his audience and wants to give everyone 100% all the time, for them to have the best night of their lives. He's fantastic to work for because you're working with someone and trying to achieve the best you can. He understands people are coming in and paying, he wants to give them the best product and he gives you the room to get on with your work."