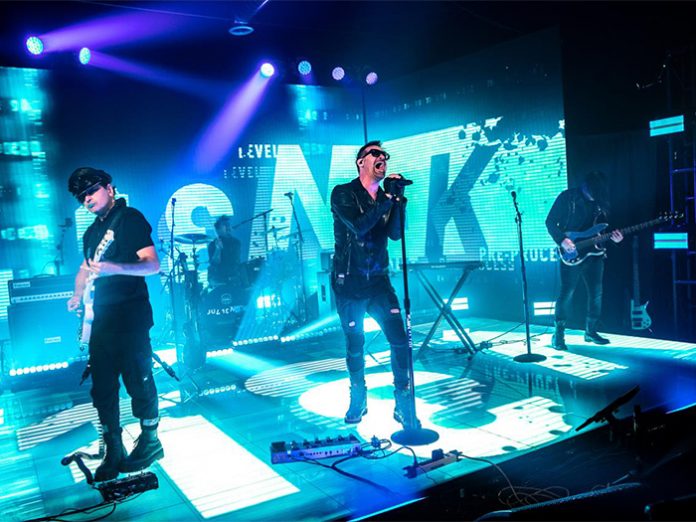 Fuse Technical Group has partnered with LA-based Third Encore Studios and Monsters of Rock Cruise (MORC) to build a virtual live production environment for content streaming following the COVID-19 crisis. Regular events including MORC's PPV live streamed music performances are delivered in front of amazing, rich visual backgrounds thanks to the processing power of Brompton Technology and its HDR solution.
"Third Encore Studios is a well-known rehearsal facility in Los Angeles. We've crossed paths many times, but never worked together on a project like this before," said Fuse Project Manager, Benjamin Johnson. "The coronavirus pandemic and the state of the entertainment industry meant there was a need to create new solutions and gave us our first opportunity to collaborate. We have solid technical knowledge and high-quality video and lighting equipment, and they have the perfect facility, all we lacked was great talent. That came in the form of the Monsters of Rock Cruise webcast, transmitted live via their Facebook page."
Together with his team, Johnson built a high spec virtual event space, with an LED floor measuring 20ft by 24ft (43.2 sq m), enclosed by a 35ft wide by 12ft tall LED wall. The space uses ROE Visual LED panels; Black Marble 4 for the floor and Carbon 3 for the upstage and left/right screens, all running on Brompton Tessera SX40 4K LED processors.
"We have had over 25 bands and artists performing on stage at Third Encore Studios, with Jane's Addiction, Bush, The Dickies and Polo G just to name a few," shared Johnson. "Most of the performing talent prefers providing us with their own content to be shown in the background, so we have to be prepared to facilitate different formats."
Significant improvement to the image quality, greater reliability, and quicker set-up times were just a few reasons why Brompton processing was chosen by the team. "We also think the colour processing on Brompton products is just incredible," he continued. "Fuse owns Brompton HDR-enabled tiles, which we've used on a couple of shows, and there's no better colour reproduction than can be achieved with Brompton HDR. The Tessera SX40 processor with HDR firmware is like a match made in heaven."
The Fuse team have found the Tessera XD 10G data distribution units particularly useful, allowing them to run fewer cables from the processor to the LED wall and helping them to keep a neat cable path on-site and making the workflow more efficient for everybody. Another Tessera processing feature they've made good use of is the OSD (On-Screen Display) which displays essential LED panel information on each tile, making tracking and troubleshooting quick and easy.
With one of the largest inventories of Tessera SX40 processors in their stock, the Fuse team had all the necessary ingredients to transition into this new way of working. "The great thing about the virtual studio is that we can utilise the equipment we would normally use on live events, touring concerts, and corporate events," said Johnson. "To build it into a studio just meant a bit of organisation. We split ourselves into teams, so that we could socially distance during the build and be as safe as we could possibly be. The studio was a very natural transition from our previous work. A lot of people are looking for a place to stream live content and we have the facility and the equipment to do it."
Johnson believes this is more than a temporary solution and that live events and virtual studios can co-exist in the post-pandemic era. "I think there's definitely a place for virtual studios in the future, particularly as live streaming is now getting a much stronger foothold. But I also believe that people love to gather, they love live concerts, and when it's safe again, that will come back," he said. "The good news is that when that happens, we will have the expertise not only to facilitate more traditional live shows, but also to continue producing and delivering high quality content via our virtual event space."
Offering his final thoughts on the quality of its processing and his relationship with the company in general, Johnson's confidence in Brompton is rock-solid. "We leave the LED walls and the processors on 24 hours a day, and we don't have any problems with them. We don't shut them off and we never have to restart them. They always work," he concluded. "Outside of this project, Brompton has always given us excellent support, helping with firmware updates, or technical questions about the processors or the colour handling. The Brompton team has always been there for us, and we very much appreciate that."