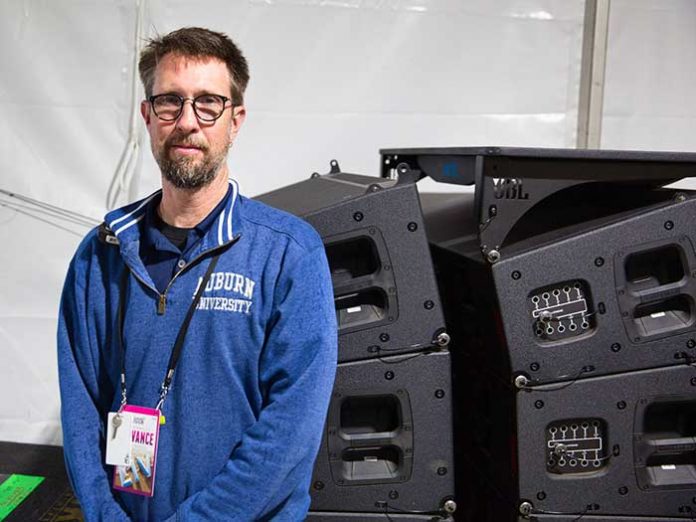 The Super Bowl is the biggest American television event of the year, it's a high-stakes, big-budget event that attracts viewers of all types, with its mix of sports, entertainment and pageantry. All audio aspects of the Super Bowl are the responsibility of ATK Audiotek, who chose Dante-network enabled RedNet gear from Focusrite Pro to manage the complexities of both the game and the entertainment extravaganza of a live stadium concert during halftime.
For 2020's Super Bowl LIV in the Hard Rock Stadium in Miami Gardens, two large-scale sound systems were in use – a flown house system and ATK's field cart system. In addition, ATK provided and operated the substantial backbone of routing equipment and input/output interfaces to patch all the systems together, and allow audio to flow from inputs to mix positions, to amplifiers and speakers, and also to external partners such as broadcast and recording trucks. "That's where having Dante and RedNet comes in to play," said ATK's Kirk Powell, who led audio production for the event.
Once the structure of the system was plotted out, the pre-configuration was implemented by Alex Guessard, the system designer and FOH mixer for the entertainment aspects of the 2020 Super Bowl, in a 50-foot-by-50-foot space in the ATK shop in California. "First, we reset the devices and put the new configuration in them." While requiring a methodical approach for such a complex system, updating firmware, naming channels and making subscriptions on RedNet devices is a straightforward task thanks to Dante Controller and RedNet Control.
Powell elaborated: "In the shop, you can verify the patch is working by just running a 10-foot cable. It's so much easier than having to walk to the catwalk and back down again, just to check a cable or connection." Once the whole stadium worth of equipment was configured and operational in one place, the deployment process was as simple as positioning the racks and connecting the fiber or network cables. "RedNet and Dante really allow a huge amount of flexibility."
In its cutting-edge setup, ATK racks were positioned in nearly every corner of the stadium. Columns of input and output interfaces, amplifiers and network switches activated all over the stadium. In each position RedNet units were performing various operations. Nodes at grass-level, at each corner of the field, comprised RedNet MP8R, RedNet A16R and RedNet D16R units.
Also within the ATK remit was sharing audio with the various broadcast trucks and mobile production facilities on site. Powell and Guessard devised a standardized way of interfacing with all of these external partners via RedNet D64R 64×64 Dante to MADI interfaces. Each partner was responsible for the clocking of their respective digital audio systems. Guessard explained: "the RedNet D64Rs are really good because they allow us to create different islands." Each island (or truck) supplied a word clock via BNC to the RedNet D64R responsible for transporting their respective MADI signals, where on-board sample-rate conversion allowed for the MADI channels to be transported at the desired sample rate.
Possibly the most important human aspect to the audio system was the role of Patchmaster, handled for Super Bowl LIV by Luis Montes from a nook in the underbelly of the Hard Rock Stadium. As the central hub of ATK's network, every home run from each nodes' network switches came to Montes's patching world via an overhead bundle of cables as wide as a water main. Montes used a RedNet AM2 two-channel D-A converter with line-level connections and a headphone output to audibly monitor signals on the network for source verification and quality control.
"It's a very adrenaline-filled show," said Guessard. "From the moment the halftime whistle is blown we have six minutes to deploy and connect everything — the stage gets set up, the speaker carts get wheeled on, and all the artists have to be set up on the stage. It's the same for lighting, and the same for video." After the 12-minute performance — this year featuring the quintessentially Miami performance by Jennifer Lopez, Shakira and surprise guests Bad Bunny and J Balvin — another commercial break covered the stage strike and, as Powell explained: "the stadium has to look like nothing happened."
Guessard summarises the Super Bowl system by saying: "there's no way we could do what we do today without a networked system. With the channel counts that we have and the mass distribution, it's not feasible."