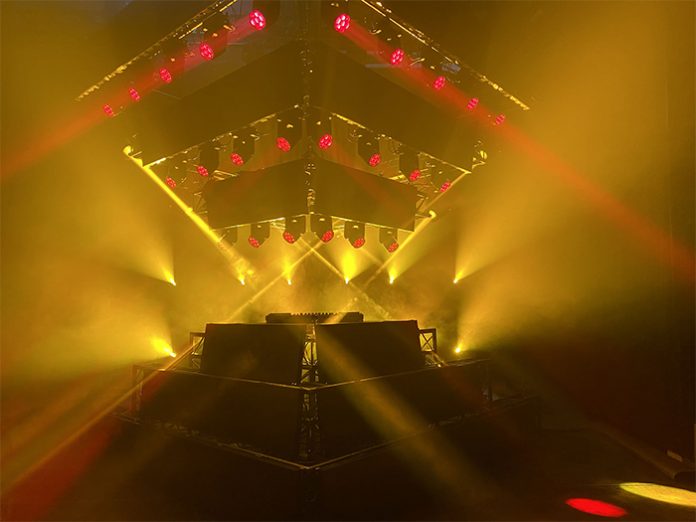 Lucas Enguerrand and his brother Quentin, who both work at French lighting and visual production and rental company FL Group, based in Morangis, wanted to keep morale high and their passion for music and lighting alive in a meaningful way during the COVID-19 lockdown.
With the full permission and support of FL Group owner Francois Lamberdière, they activated a plan to utilise the company warehouse and other available resources like equipment and with a little help from their friends, have started producing spectacular 'full production' live streams working with a number of contemporary French artists.
When the French live event and production industry ground to a halt in March, as with all the rental companies, all FL Group's immediate work was cancelled, the country went into lockdown to contain the virus and all the staff found themselves in a technical unemployment situation. To this end, three chevron-shaped trusses were rigged in descending order of size – largest at the top – in the warehouse roof, each truss with an LED video border on the front edges.
Each truss was loaded with Robe LEDBeam 150s, 24 in total. Ten were on the highest two trusses, eight on the middle two and six across the two lowest sections, above the performer's head. For back lighting and retina-burning blasts through from the rear were 12 MegaPointes. Two Tarrantulas were used to side light the artist, and at the front for key lighting came in the shape of four BMFL WashBeams on stands. All fixtures were pulled from the company's 400-strong fleet of Robe fixtures and were programmed and controlled by an MA Lighting grandMA2 console. "The idea was basically to make it appear like a festival main stage, with lots of drama and impact," explained Lucas.
To test out their creation, Lucas and Quentin brought in French rapper Rim'K – who has several connections with the company – if he would check it out, which he did while shooting the official video for his new release, Midnight. "It's been a fantastic experience getting back into some 'almost live' music and being able to operate a real lightshow," enthused Lucas. "Right now, this is the closest we have been able to get to the real gigs and the incredible atmosphere and vibes of being live and being there that we all love and miss so much!"
Normally at this time of year, FL Group would be full-on supplying a whole range of events – from corporates to music – with lighting, video, and sound during their traditional peak season between April and October. Now, like everyone, they are anxiously awaiting a post COVID-19 world that will see a gradual return to people being able to enjoy live music together again.
---