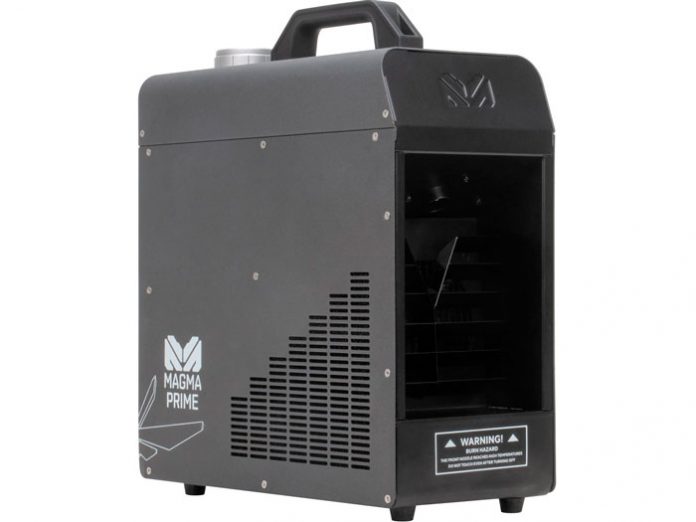 Magmatic atmospheric effects have announced the first haze machine in its Magma series of haze and fog machines. Now in stock and shipping is the Magma Prime, a durable water-based hazer with advanced technology providing exceptionally high output, dry haze effect with low fluid consumption.
Already proving popular since its debut at the 2019 LDI show, Magma Prime is a tough, all-purpose haze effect that appeals to entry-level users and professionals alike. A large fluid intake and advanced HPA (High-Pressure Air) pump technology reduce the risk of heater clogging while automatic self-cleaning and energy-saving auto shut-off (when no fluid is detected) to make operation even more effortless and economical.
Thanks to its compact size and easy mobility – the unit weighs only 10.2kg with convenient carrying handle – Magma Prime is easy to set in a corner, position side stage, or hide in a theatrical or church setting.
Built to withstand travel and repeated use, Magma Prime features a durable aluminium housing and robust design for powerful performance that delivers on time, every time. Its thermally protected 700W heat exchanger produces a full-coverage output that is excellent for such a small unit at 4,000 cu ft/min. Because the unit sips fluid at a low 3.4 ml/min, its fine haze atmosphere can enhance lighting effects for hours on end. And it does it while staying surprisingly quiet.
Magma Prime is hard to break but easy to use with an onboard LCD touchscreen control panel with manual and timer control options, intuitive DMX-512 and RDM control, and optional wired and wireless remote control options.