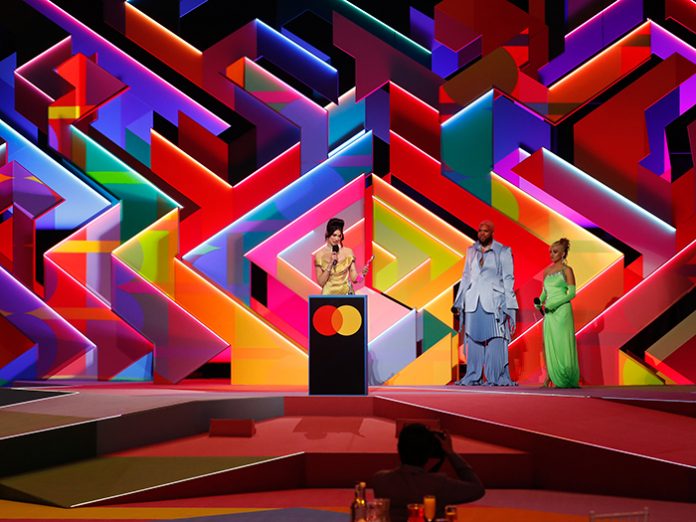 The BRIT Awards 2021 with Mastercard celebrated the return of live music at London's O2 Arena last night. Broadcast live on ITV, the event welcomed a live audience as part of the UK government's Events Research Programme. With it came a brand-new colourful stage, designed by Es Devlin OBE, along with set specialist, Diagon, who worked in collaboration with the famed designer to create and build it.
The design of this year's presenter stage combined the use of maze architecture, which expressed the paths that many of those working within the creative industries have had to navigate to overcome the challenges the pandemic brought during the past year. Incorporated within the design of the stage was the stunning use of colour by multidisciplinary artist Yinka Ilori MBE. The colours of the rainbow symbolised a message of hope and something to look forward to during these difficult times.
Having worked with the BRITs since 1998 on various builds, set and installation specialist Diagon returned as the team responsible for creating and building last night's presenter stage. Fabricated at their London studio, Diagon worked with Es Devlin to bring her extraordinary vision to life.
The 2021 BRITs mark the third time Diagon have worked with the British designer, with previous projects including Es Delvin's 2016 Mirror Maze and 2019's Memory Palace at Pitzhanger Manor.
Es Devlin OBE commented: "The BRITs has always celebrated more than pop music – it has always been a meeting point between various aspects of pop culture: art, fashion, film and architecture as well as music. The overall spirit of the BRITs this year is characterised using Yinka's stunning use of colour – which for me embodies hope, combined with my use of maze architecture which expresses the paths that many of those working within the creative industries have had to tread in order to progress through this challenging year: sometimes feeling lost en route."
Diagon's Liam Ownsworth said: "It was great to be back working with the BRITs and to once again collaborate with the brilliant Es Devlin. It was a huge privilege to bring Es Delvin's vision to life for the biggest night in UK music. Heralding the return of live music events, it was a special moment for everyone working within the creative industry, who have been especially hit hard by the pandemic."
In addition to this year's stage, Es Delvin and Yinka Ilori were previously unveiled as the designers behind this year's BRIT award, marking the BRITs' first collaborative double-trophy design. In the spirit of giving something back, recipients of an award received two trophies, one for themselves and another to give to someone of their choosing.