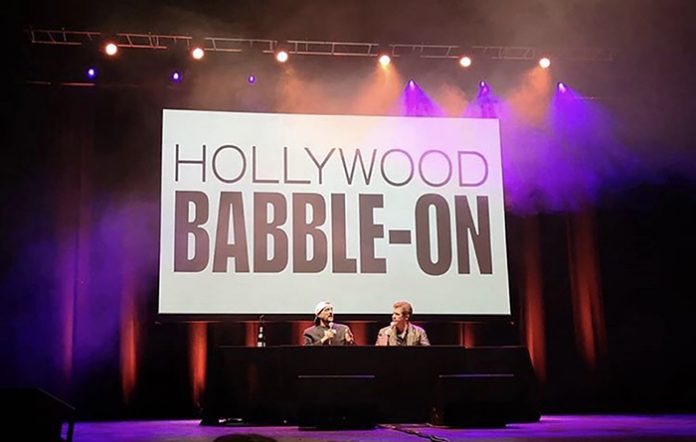 When US filmdirector Kevin Smith and actor Ralph Garman brought their popular Hollywood Babble-On podcast show to UK audiences in May, Entec's name was firmly in the frame to deliver full production, top to bottom.
Drawing on its experience of working on talk-based events starring Cesar Millan, Chevy Chase and US Senator Bernie Sanders, Entec was proud to be hired by AEG Presents to deliver a complete production package when American filmmaker Kevin Smith and actor, comedian and KROQ-FM radio presenter Ralph Garman toured the UK in May with their wild and irreverent podcast show, Hollywood Babble-On.
Since it launched in 2012, more than 350 episodes of the podcast have been recorded before intimate live audiences at an LA comedy club, with the duo discussing the latest entertainment industry news, with a side dish of outrageous observational comedy and vivid improvisation. Its growing appeal amongst British fans encouraged AEG to promote four successful British shows at Birmingham Symphony Hall, Manchester's O2 Apollo, the Usher Hall in Edinburgh and London's indigO2, following a similar formula.
Preceded by an appearance at Dublin's Vicar Street, the shows were production managed for AEG Presents by Rishi-Louis Gowry, who said: "AEG wanted the show to remain uncomplicated but with a high standard of technical production, and I was given the task of sourcing sound, lighting and video.
"Apart from indigO2, the venues couldn't cater for what we wanted and although my brief was to look locally for suppliers at each stop, I felt that a one-stop shop approach would make more sense on a number of levels, not least consistency. When I explained my concerns to Anna Golden at AEG's office, she suggested I contact Entec, who I'd worked with before on the Hollywood Vampires but never as a PM.
"As soon as I made that first call to Noreen O'Riordan, everything came together so quickly and easily. We got on immediately and to receive such great service direct from the managing director herself was just something I didn't expect. Noreen instinctively understood what I needed from my budget and went out of her way to provide full production, from top to bottom. In a business that can sometimes feel like it's all about the numbers, it's so refreshing for a relative newcomer like myself to benefit from Entec's genuinely personal touch."
Gowry, who had also been appointed AEG's promoter rep and Tour Manager, began working closely with Head of Sound Jonny Clark on the PA configuration and package, while Senior Lighting Technician Lee Stennett lent assistance with rigging plots as well as assuming the role of touring LD. "Wearing three considerable hats, I was totally consumed every day, so to trust that my technical infrastructure was always in the safest of hands was a huge relief," Gowry commented. "We could load-in and I'd simply leave everything to the crew without having to keep an eye on them.
"In terms of what the show required, Entec effectively provided the ultimate plug and play audio system. There was no wireless gear and the microphones for Kevin and Ralph were a pair of wired Shure SM58s on desk stands."
Co-ordinated by Jonny Clark, the d&b audiotechnik V-Series selected as the touring PA comprised 20 V8 cabinets, 4 V12s, 6 J-SUBs and 4 Y10Ps, powered by 16 D80 amplifiers. Colin Woodward was hired as the on-the-road PA technician with a Yamaha QL1 desk serving Bart de Wit who mixed the FOH sound as well as monitors, sending his feeds to four d&b M4 wedges onstage where a Yamaha Rio 3224 stage rack also resided.
Supported by Technician Andy Emmerson, Lee Stennett directed the lighting from a MA Lighting grandMA2 Light console with an MA2 On-PC Command Wing. The "compact and effective" fixture package featured seven Martin by Harman MAC Viper profiles, 13 MAC Aura XBs, 12 Thomas PixelPar 44s, 6 2-Lite Molefay for audience pick-ups, plus a Base Hazer Pro along with truss and motors.
Said Gowry: "I was very concerned about not over-specifying this gig and wanted to restrict it to a single truck tour, therefore, an LED video wall wasn't going to be a practical choice. However, running two 20k ANSI lumen projectors with a generously-sized fast fold screen offered a perfect solution for displaying the imagery created for the show. Again, Noreen was very helpful; through Rhodri Shaw at Transition she organised a complete system, with a switcher operated by Fergus Noble."
He added: "I really enjoyed touring this show – Kevin and Ralph were absolutely hysterical every night. Knowing Entec were there to support me all the way made that experience both comfortable and fulfilling."