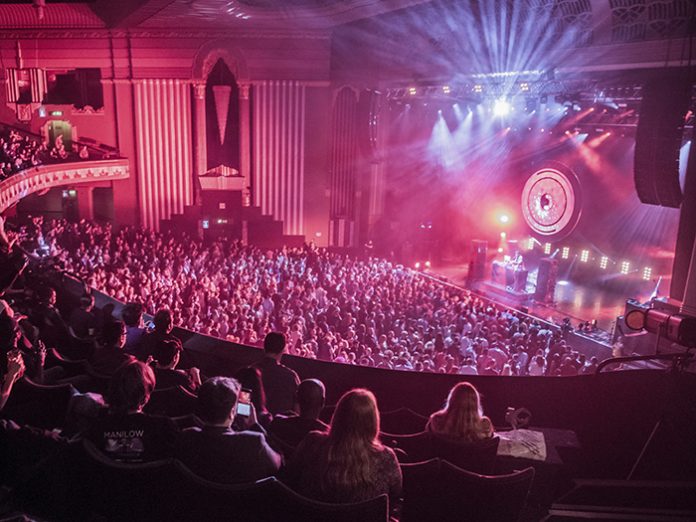 Mark Ronson, Cee-Lo Green, Morris Day and the Time and legendary bassist Larry Graham came together at the end of June to play two nights at the Eventim Apollo Hammersmith for the Autism Rocks charity as a tribute to the late Prince.
A joint presentation by Dubai-based 117Live and AEG Live, the shows featured extensive production services from Entec. The Northolt company supplied versatile lighting and sound packages as well as video, sub-hired from Rhodri Shaw at Transition Video.
Autism Rocks was set up by Shanjay Shah after his youngest son was diagnosed with autism, and saw Prince himself take to the stage in 2014. Offering further support, the artist played follow-up concerts at Koko in Camden Town and Pacha Dubai, with the promise of more to come.
"We were all set for another Prince fund-raiser this year and then came the tragic news that he had passed away," commented Malcolm Giles, the operations manager at 117Live. "The charity then decided to do this special tribute to Prince and spread more awareness of its goals. Many artists wanted to be involved but rather than gathering together a large bill of big names, it was really about presenting artists who were close to the roots of Prince, as determined by the charity."
Working with Entec crew Peter 'Pepper' Schofield and Steve Major, Andy Emmerson was in the lighting hot seat as Designer and Operator. Discussing how he tackled the design, Emmerson said: "I designed everything around the LED video wall sourced by Entec. With three bands and a DJ on the bill, rather than give each performance its own look, I went with a festival approach to the lighting, especially as I knew that I would have little or no programming time.
"The only artist input came from Jamie Thompson, Cee-Lo Green's LD, so I noted what he wanted and arranged the fixtures on the truss accordingly. In fact, Jamie's wishes were quite key to certain choices. Knowing that he's an Avolites user encouraged me to specify a pair of Avolites Sapphire Touch desks as standard, rather than go through all the fuss of swapping around. He also informed my choice of eight Clay Paky Sharpys to provide some back light beams behind the bands from the floor."
26 Sharpy Wash 330 fixtures also featured within Emmerson's spec, along with 19 Martin by Harman MAC Viper Profiles and 14 Martin by Harman MAC Aura XB compact LED wash lights. Meanwhile 4-lite Molefays on the front truss beamed into the crowd and a line of 8-lites added contrast by silhouetting the musicians.
"Another of Jamie's requests was for a decent amount of PAR 64s," informed Emmerson. "We had 60 of those to give him a range of looks throughout Cee-Lo's set and I took advantage of them myself for chases, creating some nice waves and rolls. There's still plenty to gain from old school technology!"
Emmerson particularly enjoyed the DJ side of each night. "Mark Ronson did a killer set. I like the amount of creative free rein you get when lighting DJs – you can have a greater amount of smoke and play with the audience a lot more. We had video for him on the first night but he abandoned it on the next show in favour of more lighting action, so I went to town with the big looks."
At FOH, Matt Grounds presided over the Entec-supplied DiGiCo SD10 and Avid VENUE Profile, which were routed to a Midas Pro1 control surface from which all outputs were sent to the Apollo's own Lake processors and, ultimately, to the house L-Acoustics system. The Pro1 also handled compère mics and incidental audio.
The shows' demand for 28 channels of RF was divided into 10 in-ear monitoring channels and a further 18 for wireless instruments and microphones. In charge of all things RF was Peter Eltringham, who joined Entec earlier this year as Senior Sound Technician. "At first, it was a bit of a struggle to fit in all of the frequencies," he said, "but the Shure Axient Wireless Management Network – a fantastic piece of kit – gave us a very good result in the end by scanning the RF ranges and allocating the best frequencies based on strength and reliability in order to avoid any interference."
On stage with Eltringham were patch technician Tom Olorenshaw and monitor engineer Emma Wood, who looked after a Yamaha CL5 paired with an Avid VENUE Profile. Explained Wood: "The monitoring aspect of the shows turned out to be much, much simpler than we expected. Larry Graham's set was mixed on the CL5, along with Mark Ronson, guest DJs and compères, while the Profile was used for Morris Day and Cee-Lo. We were able to save mixes on the Profile and just reuse them with different EQ settings. All the processing was done internally on both desks.
"Although we supplied Shure PSM1000 in-ears there was very little use made of them, apart from four channels shared between Larry and Cee-Lo's band, whose engineer had everything dialed in from his files. They mainly used their IEMs to sync to a partial backing track and otherwise, like everyone else, relied on Entec's d&b audiotechnik M4 floor wedges with C7 tops and subs, all powered by d&b D12 digital amps."
Shure UR2 hand-held wireless microphones were widely used. While DPA d:facto vocal capsules were employed for Larry Graham and Morris Day, Cee-Lo Green's touring engineer preferred the standard SM58 head. Elsewhere, it was a standard Entec microphone package featuring models from Sennheiser, Shure and AKG as well as Radial J48 Phantom Powered DIs.