Touring the European continent can be challenging at the best of times and with a greater focus on cultivating accessible spaces for the live events industry, Marisa Rinchiuso, who has a deteriorative neuromuscular disease, muscular dystrophy, recently embarked on her first experience on the road, assuming the role of Assistant Stage Manager on the European leg of The Weeknd's latest stadium tour.
"The interesting dynamic of progressive disabilities is that it is constantly evolving. My first time working onsite with TAIT was at the 2019 VMAs, I had no mobility aids and worked 15-hour days. I'm mortified when I think back, because my discomfort was due to a lack of knowledge and resources, and fear about utilising mobility aids in a work environment. I was eager to find industry role models I could learn from," Rinchiuso recalled, highlighting the importance of representation, and creating opportunities for adaptive methodologies within the fiercely competitive industry.
"There can be a mentality of earning your stripes as a young person, but how do you do that if your body doesn't work in the conventional way? Understanding my disability and what my needs have always been a challenge for me with an ever-changing disability. However, starting a dialogue with my supervisor(s) and my team about where I may need support has been helpful. It felt a lot easier to ask for accommodations later because the door was already open rather than going in with no previous context."
Rinchiuso began working with The Weeknd camp in 2021, helping develop the scenic and automation elements of a North American campaign as a Project Manager at TAIT. "I had this perception that a stage manager needed to be this person who was physically strong, could lift heavy things, and hop in a truck at a moment's notice, which is not me by any means, so I felt empowered by the team when they were willing to take a chance on me," she recalled.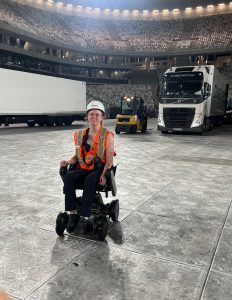 "With The Weeknd's camp, I felt seen as a live event professional and a disabled person. Because the work is very physical, I used my electric wheelchair most of the time. When there were things I couldn't do physically, I felt comfortable asking for help. The crew always made me feel supported and I knew we were always looking out for each other."
On site, Rinchiuso spent most of the load-in and -out in the field, overseeing several trucks of equipment for multiple stages. "Something I still think about to this day was the care and attention of our Beat The Street bus driver. We toured with double-deckers, which are tall, and the steps are hard to climb, but the driver would put down a four-by-four palette for me as a booster step to get in, and that gesture made all the difference."
Even for the most battle-hardened road crew, travel can often be an uncomfortable experience, especially after working long days. "My fellow crew mates helped me navigate countless airports, challenging venues, and even the occasional after-work hang out spot that posed accessibility issues" she remarked, noting that accessible design benefits everyone. "There are lots of changes venues, vendors, and production teams can do to increase accessibility with little or no cost, however, I feel the most substantial change is cultural. Being willing to try something in a new way or re-thinking old methodologies improves accessibility, but also inspires innovation."
However, what made Rinchiuso feel the safest was the camp's cultivation of care for people on the road. "My experience had quirks that most touring individuals don't have, but the experience of needing help occasionally is a universal one. I'm a very independent individual but the offer of support was always there, and no one ever forced me to take their help and respected that I wanted to at least give something a try before asking for help. I always felt that my tour family had my back" she commented, explaining how simply being on the site was a way to encourage accessibility in live events spaces.
Following her maiden voyage, Rinchiuso is embarking on a graduate programme in social work and clinical sex therapy, doing what she really cares about: taking care of people. "I want to be a mental health resource for live events professionals because I and so many of my friends have experienced feelings of burnout, even just a few years into this career. Investing in resources that support people in their work and help maintain the things that bring them joy is something I'm extremely passionate about. Something I particularly loved about The Weeknd's camp was that friends and family of the crew would come visit, when possible," Rinchiuso said, underlining her hopes of encouraging more humanity and creating a more sustainable lifestyle for the sector's workforce.
"People who get injured, age, or have a disability are often realising that this industry no longer feels accessible to them. Imagine the kind of community we could create if we continue to foster inclusive environments, working with people from all over the world, surrounding ourselves with different cultures, skill sets, and experiences."
Words: Jacob Waite
Photos: Marisa Rinchiuso