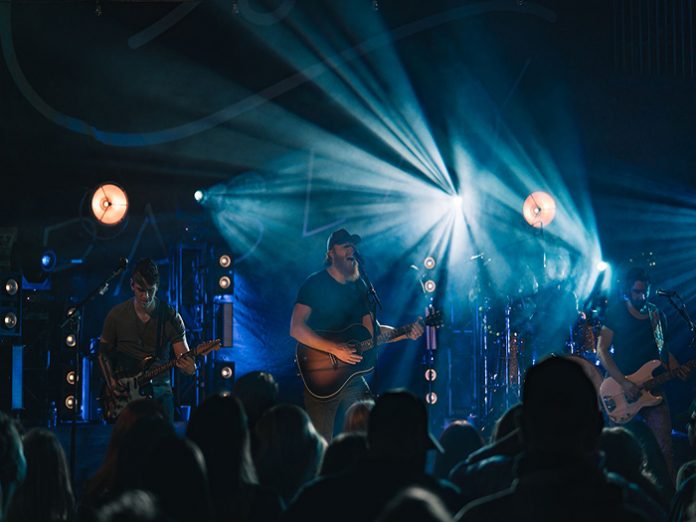 As a Platinum-selling songwriter and recent GRAMMY and ACM Award nominee, Eric Paslay has celebrated five No. 1 hits while also making a name for himself as a dynamic performer.
With the debut of his latest single Young Forever and the launch of his 2018 tour, Paslay wanted to create a new experience for his fans out on the road. Once again working with lighting designer and programmer Mike Marcario and production manager Norwood Wood, the creative team needed a trusted tour provider for the updated lighting rig, and they turned to Nashville-based Elite Multimedia.
"The lighting design seemed to come together rather quickly, but we needed to rethink some fixture types to adhere more to what Eric wanted to see as an artist," began Marcario.
"One of the directives he gave me was that he didn't want to see the crowd covering their eyes due to brightness. He also mentioned that he loves "tungsten restoration hardware style", which I interpreted as he wants to see more tungsten and a little less colour. So, Norwood and I sat down and started drawing out how to redesign the rig while staying on budget."
Needing to stay within the same staging layout of the previous tour, Marcario was comfortable drawing upon his experience with the artist to understand the looks he needed to accomplish in the new lighting design. Looking at the various technologies available, he was able to find an ideal combination of luminaires that would make the design a success.
"We started the design with Elation Professional ACL 360i fixtures on truss towers to keep the same look as in previous years, but when I started considering Eric's directives, I knew that wouldn't work for his vision," continued Marcario.
"Consequently, we decided to go with Elation CUEPIX WW2 LED Blinders on truss towers, to give us the tungsten that Eric loves, and they pair well with the Robe picklePATT in the rig already. For our colour elements, we then placed Chauvet COLORado Batten 72 fixtures on side trusses behind the truss towers, along with an Elation Artiste DaVinci luminaire on top of each truss tower to give us colour and aerial effects options. What resulted was this great stack of tungsten, with the colour battens hidden behind them."
With the updated lighting plot coming together, Marcario and Wood took the new design to Elite Multimedia. Having worked with the tour provider on numerous occasions, they were confident they would be able to build a production rig that could handle all their touring needs.
"Once we had a concept going of what we wanted the show to look like, we brought it to Peter Streiff at Elite Multimedia," said Wood. "We typically do a mixture of clubs and festivals, or direct arena tour support for a headlining artist, so the design really needs to be scalable to handle anything. Since we are a bus and trailer tour, our towers stay built on rolling racks with all the cabling built-in as well.
"Once onsite we hang the fixtures on the towers, plug them in, and then the whole rig is controlled through a grandMA Ultra-Light console. Once it is called up, we simply touch-up some lighting positions and we then use SMPTE code to run most of the show."
Ready to begin programming the 2018 tour, Marcario would be challenged to create a multi-layered and engaging lighting design. Using the new single as the most poignant moment of the show, he was able to fully utilize the design capabilities of the gear to enhance the fan experience.
"Because we went from fixtures with many features to the WW2 Blinders that don't have a
lot of tricks, we had to really rethink how we would get our different looks and keep it interesting for a 75-minute set," explained Marcario.
"On this tour, Eric has a new single called Young Forever which he wanted to make the signature moment of the show. To do this, I built the first half of the set to be only tungsten looks using certain cells and characteristics of each fixture in varying configurations. There is a lot of bringing certain fixture types forward while holding others back, and then switching it up with intensity chases and fluctuations. About halfway through the set, when it comes time for the new single, we bring in the color which resets the palette and allows us to do more lighting effects. The Elation Artiste DaVinci luminaires have a lot of great capabilities and we like to use all of them."
"The Artiste DaVinci really is an amazing LED spot fixture," admitted Wood. "They are flexible and punchy while still light on power consumption, which is a big help. Since the show does have a bigger tungsten look with a more vintage vibe, the DaVinci gives us the opportunity for big, colorful looks that really reach out from the stage."
"I vibe a lot off what an artist gets excited about and when we were talking about how to make Young Forever pop, his eyes lit up," added Marcario. "It was exactly what he wanted so as he gets excited as an artist, that's what keeps me going as a designer and programmer."
Now out on the road with dates scheduled through the remainder of 2018, the Eric Paslay delivers a powerful performance. Behind the scenes, knowing the amount of work that went into creating the updated production design, both Marcario and Wood are thankful for their tour partnership with Elite Multimedia.
"The ACL360i to WW2 change happened just a day before prep, and less than a week before rehearsal, so I have to give a lot of credit to Peter Streiff at Elite Multimedia for acting so quickly and positively to make it happen," explained Marcario. "I have never seen Eric this excited about a tour lighting design, and a lot of that is due to Elite's willingness to make quick changes like that. As a younger designer, I appreciate their willingness to work with me creatively, and it's great to work with a tour provider in such a trusted relationship."
"We have always had a great relationship with Elite Multimedia and it's always been an open line of communication," concluded Wood. "Whenever we need something, they are always there to walk us through it and make sure we have the right gear to fit our tour. Whether it's something that they have on-hand, or it's something they need to acquire for us quickly, their commitment to our tour has always been really good."