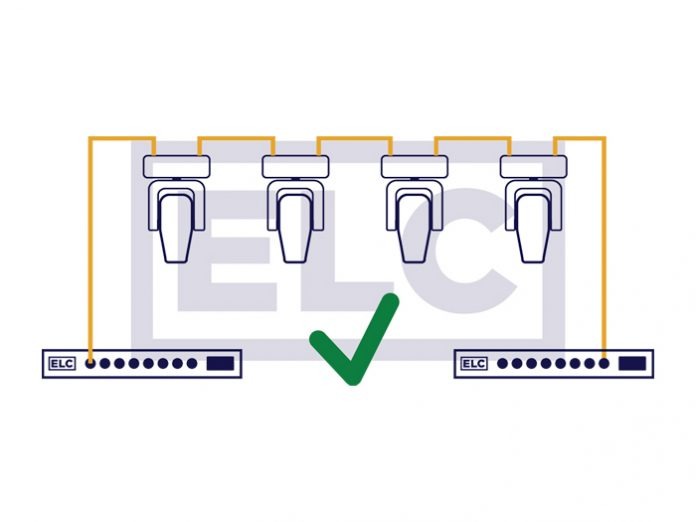 DMX control specialist ELC Lighting will unveil its latest innovation, designed to enable the creation of fully-redundant DMX networks, at the LDI show in Las Vegas this month. Now, for the first time, a damaged DMX cable is no longer liable to be a show-stopper.
Until now, redundant DMX networks could be built right up to the ethernet-to-DMX node. However, the last link in the essential chain of lighting data – the DMX cable itself – always remained vulnerable as a single point of failure. With the new Redundant DMX feature, lighting production crews can rely on ELC Lighting's dmXLAN nodeGBx system to provide automatic, seamless take-over in the event of damage or disconnection of the DMX cable, or even of partial network failure.
"The lighting industry asks for more and more redundancy, to ensure that the show always goes on," said ELC Lighting's support and application specialist, Henk-Jan Blok. "In today's production environment, it should be inconceivable that a system should fail simply because a single item or DMX cable fails, but this was not possible with DMX before now. A single DMX cable could take out a complete run of lights – and it has happened."
Now, however, ELC Lighting's dmXLAN nodeGBx system offers complete system redundancy. To enable this redundancy, the user simply connects the last fixture from the DMX run back into a nodeGBx unit and configures this port as a 'DMX backup' via the standard dmXLAN software interface. This ensures a smooth and seamless takeover in case of failure in the DMX run."In this way," said Henk-Jan Blok, "the last remaining vulnerable part of the lighting data distribution chain is now also failsafe. The lights will keep working, even when a DMX cable is unplugged by accident or damaged in any way. That last, single point of failure is now a thing of the past."
The nodeGBx system is capable of extremely fast takeovers in the event of failure, with virtually zero glitches visible in the lighting rig. In the case of a DMX cable breakage or unplugging, the backup port will take over the DMX output within 50ms. In case of a partial network failure, takeover will occur directly after the set DMX hold time. When the 'fault condition' has ended, the recovery time is less than one DMX frame. Together with the dmXLAN software, the system also provides early detection of failure.
ELC Lighting's Redundant DMX feature is available as a firmware upgrade to the dmXLAN nodeGBx system, and will be available for demonstration at the LDI show in Las Vegas, USA (22-24 November 2019) on booth #2545.