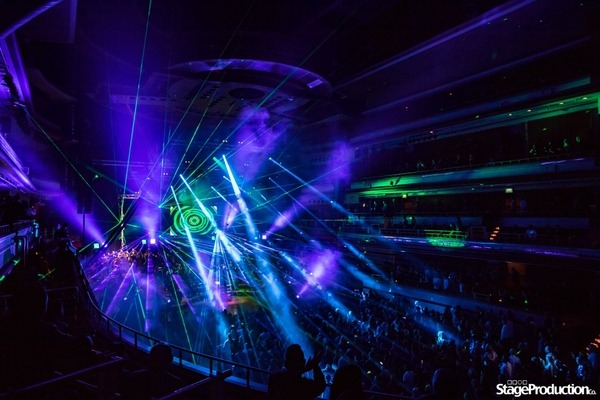 On 24 November, England's infamous club and house music brand, Miss Moneypenny's, celebrated its 25th birthday with a Night at the Proms party in Birmingham, supported by an Elation Professional rig.
Held at Symphony Hall in Birmingham, full service production company, Stage Production Co., were called on to produce all the technical elements of the show and used an Elation Professional lighting system, which provided lighting support for the 65-piece orchestra, 6-piece band, 30 dancers, circus performers, a choir and live singers.
"We needed to create a combination of big stage looks, nightclub vibes and a festival feeling and once again Elation were our go-to products for the show," said Stage Production's Jordan Lake, MD at the Birmingham-based company that also handled rigging (Duratruss) and sound. Production design was by Jordan himself with lighting programming and operation by Ben Butler, Stage Production's full-time LD.
"We had to make sure the orchestra was evenly lit throughout the show so we needed a nice solid wash, but it couldn't overpower the stage as this show was just as much about the visual impact than it was the orchestra," Lake added. "We wanted to make sure the audience saw the stage and the show as a whole, so they were almost over-whelmed by lights, musicians, performers and effects. We needed to build a really intense show but all the while keeping a bit of clarity so each show element could shine in its own right."
Lake chose a mix of Elation Professional Platinum Beam 5R Extreme moving head beam lights, Rayzor Q12 LED moving heads, ACL 360 Matrix LED moving panels, Protron 3K LED strobes and Cuepix Blinder WW2s. "We had all the lighting fixtures laid out in different grid patterns so each fixture group had its own identity on stage and changed the shape of the rig."
Elation Professional Platinum Beam 5R Extremes provided the bulk of the mid-air lighting effects throughout the show. "You can paint the air with them all night long and define the feeling of a particular track just by changing their focus position," Lake explained. "For big string section build-ups, we could lift the beams tilt position slowly and you could see people raise their arms at the same time."
Across the back of the orchestra riser, around the curve of the stalls, were placed ACL 360 Matrix fixtures, Elation Professional's popular continuously rotating 5×5 matrix LED panel that projects a distinctive beam. "They've got this great square beam they put out in the air. And the pixel mapping capabilities meant we could get some slick linear looks similar to the ACL 360 Bars."
A Night at the Proms marked Miss Moneypenny's first show in Birmingham in nearly 10 years. The show was recorded for Facebook and social media broadcast with audio recorded for future use. Lake concluded: "The show was a big hit and the lighting played a big part in creating a great atmosphere. Beams, strobes and blinders are our most in-demand kit. Every day of every week we send them out the door onto a show, and they just keep going."