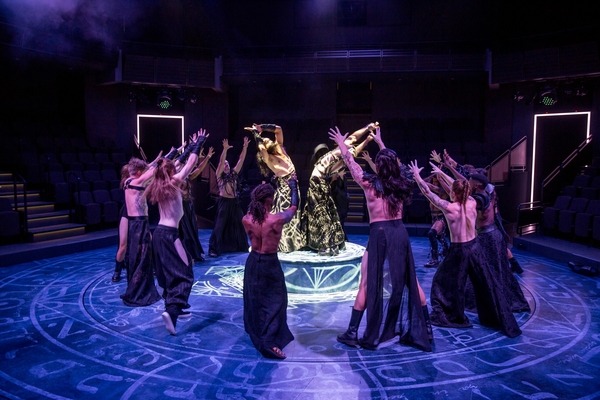 The Denver Center for the Performing Arts (DCPA) staged an inventive and reimagined version of Macbeth that features an all-male cast, EDM style music and modern design elements. Alex Jainchill was responsible for lighting the contemporary version of Shakespeare's classic tragedy.
The designer utilised LED lighting from Elation Professional to meet lighting challenges and create magical moments in the show, including special black light UV effects; such as 5 Elation Satura Profile, 15 Elation Platinum Seven, 25 Elation SixPar 200, and 5 Elation Arena Par Zoom.
"The concept was based around a ritual performed by warlocks in the pit of Acheron, sort of a cave at the end of the world. We were very interested in this version of the ritual being almost futuristic, certainly modern.
"For example, Macbeth's Dagger Soliloquy was actually part of a movement sequence in which the floating daggers were represented by the actors' arms in UV-activated gloves. It gave the effect of disembodied daggers floating and slashing around MacBeth. The biggest key for using the Platinum Sevens and why I wouldn't accept a substitution in this case was the UV chip. All of the actors had UV-activated tattoos, and the floor had a UV treatment," Jainchill explained.
Jainchill adds that the Platinum Sevens were lighting workhorses and used their design features to light every scene. "Although the UV was the most important feature of the Platinum Sevens, they also are fantastic wash lights and I would use them again simply as an LED wash light. That being said, I loved using the inner, center, and outer ring beam feature and used the BPM (beats per minute) feature in the ETC Eos effects engine often. Simply creating an effect to move between the rings of the LEDs to the beat of the music was very successful. Also, lighting whole scenes using just the center diode in the fixtures created a much simpler look in the ceiling and gave me additional appearances from the rig that was part of the scenic ceiling."
Jainchill used an ETC Eos Classic console for lighting control and previsualised the show using Vectorworks Vision. Lily Bradford was deployed as Lighting Assistant, while Charles Macleod was designed master electrician. "They were fantastic and I couldn't have done the show without their help," the designer concludes.