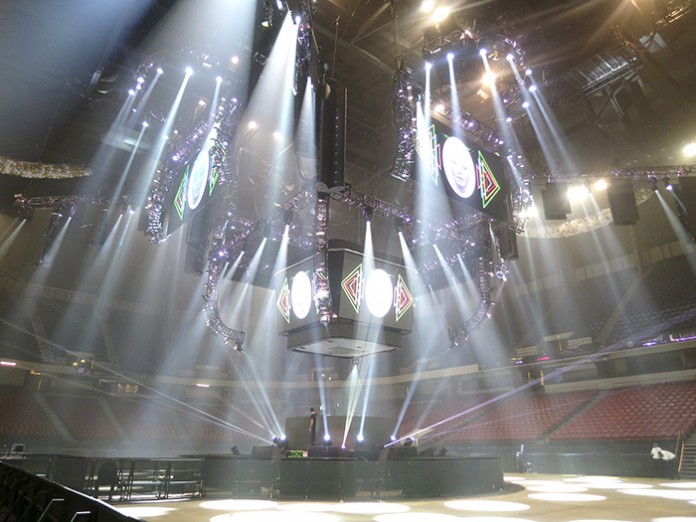 California-based Rat Sound Systems provided a full 360° of audio coverage for Bassnectar's New Year's Eve show in Birmingham, Alabama.
The concert, which was held at the Birmingham-Jefferson Convention Center (BJCC) Legacy Arena, featured 72 Eastern Acoustic Works (EAW) Anya modules flown in four double wide clusters.
Bassnectar is well-known for his live performances, massive sound systems and light shows. Bassnectar NYE360, now in its fifth year, featured a rotating stage at the centre of the arena designed to deliver maximum impact to his fans. The Legacy Arena seats up to 19,000 and was completely sold out for the event.
"After adapting Anya to Red Rocks in Colorado and now using it 360° at BJCC – the system continues to amaze me," said Jason Decter, FOH Engineer for Bassnectar. "It has such power and hi-fi clarity. It was no problem to evenly cover the entire venue with a high SPL. It's really impressive."
Rat Sound Systems President Dave Rat has been working with Bassnectar as a sound consultant for the last year. As such, he was brought in to design a sound system with some unique challenges for Bassnectar NYE360.
Not only did the system need to be optimised for 360° arena coverage, but it was important that it did not block sight lines or distract from the beautiful, intense visuals. Plus, it had to cover the entire arena as smoothly and uniformly as possible.
"Achieving360° coverage from a conventional line array system is not overly challenging if one is willing to hang five or more clusters," explained Rat. "The problem is that one cannot physically put two conventional, 'J' shaped line array hangs next to each other – pointed in different directions – without leaving space between them.
"If you don't, you get undesirable interference when the same signal is sent to both arrays. To deal with the interference, the arrays need to be physically separated, which creates a space problem. The amount of sight line blockage of video screens can be an issue with that type of set-up."
For Bassnectar NYE360 the video screens in the arena scoreboard were incorporated as a central video source for the performance. With this in mind, Rat knew that if he could place sound arrays at the four corners of the square scoreboard, he could minimise sight line blockage. However, in order to cover the venue smoothly and uniformly, each of the four sound arrays would need a relatively wide coverage and would need to be flown in a fairly limited vertical space.
"I ended up comparing coverage, volume levels and sight lines using a conventional J shaped line array versus an EAW Anya system," Rat added. "The EAW Anya system offers some unique advantages for this application in that the arrays hang in a straight line rather than a J shape. Two or more arrays can be connected together side by side, increasing the horizontal coverage while minimising blocking of video screens and lighting.
"Additionally, since the vertical coverage of the Anya system is controlled electronically, the trim height of the sound system could be adjusted to an optimal height without compromising coverage."
The final design consisted of four Anya clusters made up of a column of 11 modules hung next to a column of seven modules. Each cluster was then positioned in the corners of the scoreboard for highly uniform coverage of the arena.
Anya is part of EAW's Adaptive Systems, designed to deliver an audio experience like no other. The smooth and uniform coverage – of even the most challenging venues – immerses the audience in sound, allowing artists to engage their fans on an entirely new level.
Each Anya module includes 22 highly customised transducers – 14 HF compression drivers, six five-inch MF cone transducers combined with Radial Phase Plugs and Concentric Summation Array technology and dual 15-inch LF cone transducers that employ Offset Aperture loading to extend horizontal pattern control into the lower octaves – powered and processed independently to provide extremely high resolution and control.
"In this application, it is all about sound being heard and not seen," Rat concluded. "It was an enjoyable challenge working with video, lights, riggers and all of production to merge everything together. There were 720,000 watts of Anya at the concert covering every seat in the house with powerful, consistent sound."