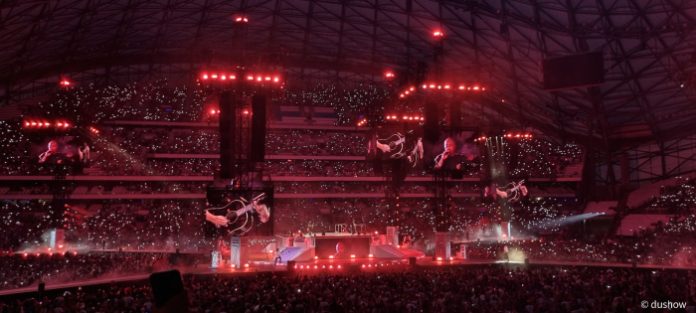 There are certain words that come up often in reviews of Soprano's live shows. "Energetic" is certainly one, an obvious choice for anyone who has seen this dynamic performer on stage. "Flawless" is another, a tribute to his impeccably tight flow as a rapper. Beyond these flattering terms that speak to the star's talent however, there are others that define a personal quality that truly makes his shows special for fans; they revolve around words like "openness," "inclusion," and "connectivity."
It is a magical quality of Soprano that, even as a superstar, he somehow always manages to make everyone feel like a welcomed part of his show. As one critic wrote of the Marseilles-born artist earlier this year, he made the crowd "feel a part of his performance… like we were part of something big."
This communal spirit has been very much on display in Soprano's Chasseur d'Etoiles Tour, not only in the performance of the star himself, but also in the production and lighting design that supports him. Victorien Cayzeele of Blue Like Cue, designed the light show and Artistic Director, Julien Mairesse created the scenography. This collaboration created an all-embracing environment through a combination of inviting colours and patterns, audience lighting and an open stage that facilitated the connection between the artist and his fans.
"Soprano's' philosophy is to use light accent to emphasise actions on stage. We occupied the venues with a 360° stage, so it's important to be generous with everyone all of the time," said Cayzeele. "We want a group cohesion, bringing everyone together by unifying fans through light. To achieve this, we need to light up the stadium correctly and get a homogenous rendering of colour, to sublimate the stadium's architecture and create a cocoon inside."
Helping Cayzeele accomplish this was a collection of 180 CHAUVET Professional Color STRIKE M fixtures supplied by Dushow. The motorised strobe/washes that feature two bright white tubes surround by a colour-mixing, pixel mappable face are positioned on the tops of towers for Soprano's stadium shows.
"The Color STRIKE Ms and the colours they produced are our main baseline," said Cayzeele. "It must be noted that it is complicated to use hazers in open stadiums, and the 14 MDGs spread throughout the space have only marginal effect. We also chose to work with very few beam effects. Out of the 900 projectors we use, only 60 are beam sources, all the rest are flood. What I enjoy about the Color STRIKE M is its power! Sometimes one could say it's even too powerful; we had to lower the master as the sun went down. What is great about these is that with their placement we were able to light up the faces of the audience without blinding or stunning the artist."
The output of the Color STRIKE M is important in helping the design team maintain consistent looks as the tour moved from venue to venue. "Our FOH changes placed according to which stadium we are playing in, so we needed a light design that is homogenous whichever axis you would look at it from," said Cayzeele. "We need to keep in mind that the towers also cast shadows. Our lighting operators, Matthieu Patriarca and Romain Labat deserve a lot of credit for making things work smoothly as do Marco Saby (Networks) and our TD Aymeric Sorriaux."
Soprano himself, was also involved in the show, giving feedback and inspiration to the design team. Among the goals he undoubtably shared was to create a show that brought him closer to his fans. On this score, they succeeded in spectacular fashion.