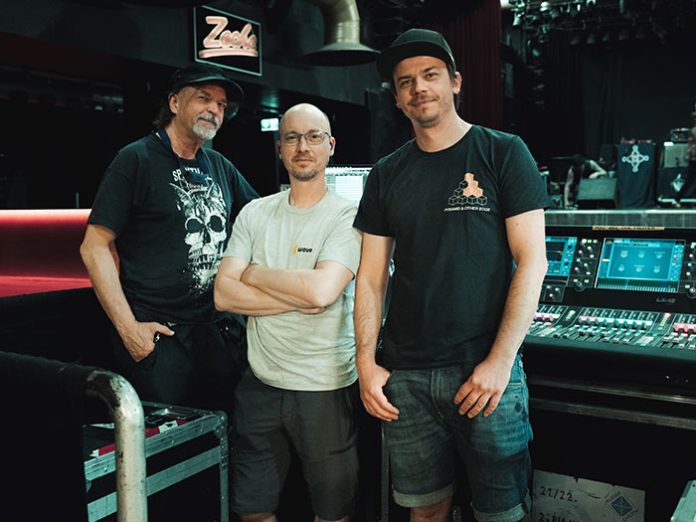 The Mission concluded their 33-date European tour with Wires & Lights which featured the use of two Allen & Heath dLive S5000 consoles for FOH and monitors, along with a DM64 MixRack provided by TDA Germany.
Looking after the mixes for the tour were Marek Komenda, FOH for The Mission, Thomas Neidhardt, FOH for Wires & Lights, and Pavol 'Pogy' Pogany, Monitors for The Mission delivered their expertise to the sold-out venues on the tour.
Neidhardt commented: "Mixing on the dLive was very comfortable. The DEEP plugins are brilliant, and I love the analogue characteristics of the Bucket Brigade Delay. Everyone appreciated the flexibility and power of the dLive, which was indispensable for this production, as we had two complete backlines set up on stage."
Neidhardt also took care of mixing wedges from FOH for the support band, along with several IEMs. "Despite the lack of production rehearsals, by the third night, I was completely flowing through the mixes with ease, and soundcheck readiness happened very fast with this dLive configuration," he emphasised.
Ensuring The Mission's sound was captured, Komenda incorporated outboard gear, whereas Neidhardt felt at home with all the DEEP plugins, such as the Dual Threshold Expander, Dynamic EQ, and the newer Bus compressor.
The dLive DM64 is the largest MixRack in the dLive range, providing 64 XLR mic/line inputs and 32 XLR line outputs plus three 128-channel audio networking slots. As with all dLive MixRacks, the DM64 offers 128 input processing channels and 64 mix outputs with a configurable 64-bus architecture and super low 0.7ms latency, plus full access to Allen & Heath's renowned DEEP processors. The dLive S5000 is a 28-fader control surface with dual 12-inch touchscreens, 26 assignable SoftKeys and six assignable rotaries. The Surface's fully customisable layout enables engineers to build a workflow that reflects their mixing style.
The tour's success was largely attributed to the convenience of the S5000 mixing surfaces and the dLive system allowing for seamless switching between both bands and recalling customised Scenes effortlessly. "The decision to have the dLive S5000s on this tour was definitely the right choice," concluded the team.