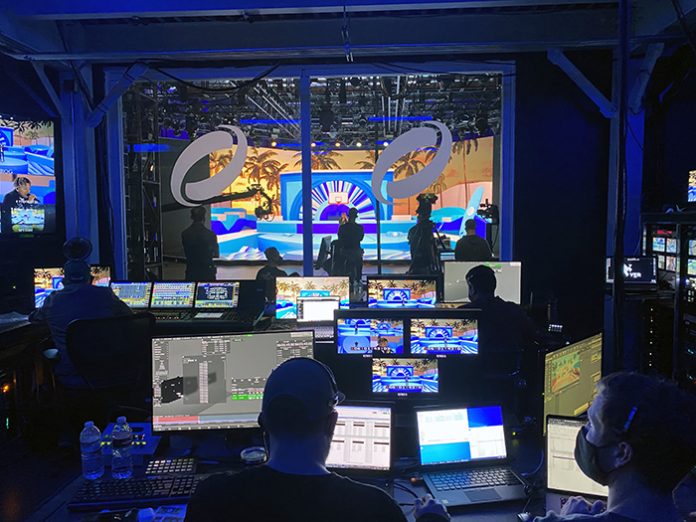 AT&T, the Official 5G Wireless Network Partner of the NBA and presenting partner of the NBA Conference Finals, offered a unique connected music experience with its 5G Courtside Concert Series. The four-part series, starring 2 Chainz, Big Sean, Cordae, and CHIKA featured Extended Reality (xR) visuals on a virtual stages. Portions of the performances aired on TNT and ESPN's broadcast coverage of the NBA Conference Finals, and full performances were released online following the telecasts.
To bring this unique broadcast to life, AOIN teamed with sports marketing and talent management company, Wasserman Media Group; xR stage and equipment provider, PRG Production Studios along with Unreal Engine and Notch content specialist, Flight School Studio.
The concept was to create discrete environments for each artist that matched their aesthetics and performance styles. Interactive elements engaged with the artists and DMX components enabled the lighting to respond to different movements included in the performances. Each musical experience functioned much like an in-person show with an added virtual layer on top.
xR was the logical choice for the project, not only due to COVID-19 health and safety concerns but also as a way to avoid the heavy cost and time involved in building out the unique physical environments for each artist – not to mention coordinating between busy schedules of each artist.
To achieve the custom virtual environments, AOIN marshalled four disguise gx 2c media servers to be used in PRG's xR studio. Content from Unreal Engine and Notch was rendered on ROE Black Onyx and Black Marble LED video displays to form the visual backdrops for the artists' virtual environments.
stYpe Follower was also deployed during the xR production to track the artist's movements and change the xR content in response. This meant integrating tracking data in post. Raw stYpe camera tracking simply wouldn't work so disguise developed a timecode recorder to allow real-time data to be sent from Follower to the media servers to facilitate xR calibration and recording with extra coefficients.
disguise also provided Notch support enabling AOIN to use just one system for Unreal Engine content rendering and Notch rendering with no additional dongles. Using the compressed workflow of Unreal Engine through the gx 2cs with Notch helped maintain creative continuity and produce a more cohesive look.
"The new timecode functionality is the best example of the unique capabilities that disguise can provide, while being able to integrate both Notch and Unreal into a xR project is another very unique thing that disguise allows us to do," said AOIN Producer, Berto Mora. "I don't think that there are many other platforms that could support both content streams as seamlessly as disguise did. That kind of support in creating a custom tool for a project or in developing an existing tool for a specific use case is a really good example of how disguise is a unique partner."
A key new feature for AOIN was the exposed parameters feature included within disguise RenderStream, which helped them control interactive graphics and the system directly from the timeline. Additionally, the ability to expose positional properties to enable objects within the scene so they could switch maps from the project's timeline in the disguise Designer software gave AOIN even more new control capabilities.
Everyone was very excited to work with xR technology and happy with the results, Mora reported. "For the artists to see that they can interact with the stages was really promising to them to the point where some said they would want to use this in their live shows – that's pretty incredible!" he declares.
AOIN xR Project Manager, Danny Firpo commented: "We had that kind of trust and collaborative loop. Flight School understands content production as well as post-production pipelines – that's incredibly valuable. And the Wasserman team knows when to be hands-on and when to be hands-off and to let their creative partners do what they do best, which is great. I think they are all pretty happy where we ended up."
Firpo is a big believer in xR and has seen how far the technology has come: "Today, you now have people that don't even know about xR, and can get the documentation and figure it out. Whereas in the past, this kind of workflow was completely unchartered," he concluded. "I think the technology has improved and it's something we feel confident in and are offering it more and more to our clients."