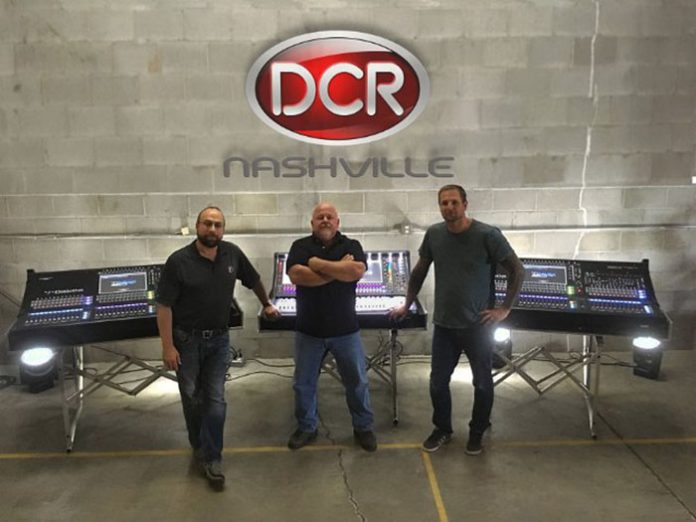 DCR Nashville announces that it has now expanded its inventory with the recent addition of three DiGiCo mixing consoles: two SD10 desks and a new SD12. Inclusive with that purchase are three SD-Racks—each fully loaded with 56 channels of DiGiCo's brand new 32-bit John Stadius mic preamp modules — three DiGiGrid MGB interfaces and three Waves SoundGrid Extreme servers.
According to DCR Nashville General Manager John Schirmer, who joined the company in January of this year, the purchase underscores the company's commitment to offering what its touring and corporate clients are looking for.
"Although DCR Nashville has been providing full production services for Brantley Gilbert's The Devil Don't Sleep tour and a host of others events — including CMA Fest, Music City July 4th Celebration and Dave Ramsey Solutions — DCR's owner originally started this company 12 years ago in an effort to supply digital desks to our partners in the production industry when they couldn't afford them or ran short on inventory," Schirmer explained. "To best continue to support that business model, we've updated our inventory with what our clients are asking for, and many of those requests have specifically been for DiGiCo."
Although Schirmer acknowledges that the most frequent DiGiCo request has been for the SD10—which DCR Nashville now has a pair of — he foresees that their SD12 will soon be in top demand as well.
"Not only do we have to stay current with what the market wants right now, but we also have to be ahead of the curve in terms of what touring organisations will be wanting down the road," he said.
"The SD12 is a good example, especially when paired with the new 32-bit mic pres, which sound fantastic. We have clients that are looking for an SD8 or SD9, but we see the newest SD-Series desk as the natural progression from those consoles. We're going on instinct here, but we fully expect that the SD12 will soon be a very popular choice."
Having personally been a touring FOH engineer for 25 years, Schirmer noted that he has used DiGiCo products on a number of tours and been more than satisfied.
"SD-Series consoles are great-sounding, high-quality products," he said.    "As far as my experience goes, DiGiCo also has the lowest failure rate on the road, which is a huge deal. Given that, it's easy to see why they've become one of the industry standards that everybody's looking for — so it didn't make sense for us not to add their products to our inventory. DCR Nashville actually had a D1 Live in its inventory when it was first introduced — plus we've had an SD8 out on tour with Josh Turner for a couple of years now. With this investment we're excited to re-strengthen our partnership with DiGiCo and help them properly service Nashville's active touring and cross-rental markets."
www.DiGiCo.biz