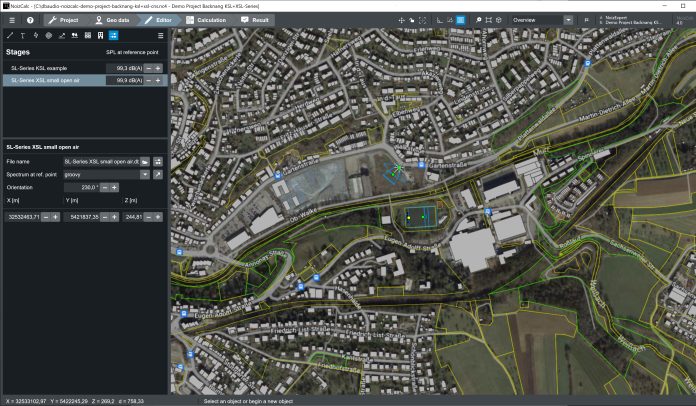 d&b audiotechnik has launched NoizCalc 4.0 software, the latest version of its advanced simulation tool designed to accurately predict noise arising from outdoor events equipped with d&b systems.
Version 4.0 features a range of enhancements over previous versions, including a new Graphical User Interface and an optimised workflow to ensure an accessible and intuitive user experience. Among the enhancements are greater similarity and alignment with ArrayCalc and the R1 remote control software, so users of those tools will immediately find themselves in a familiar environment, without too steep a learning curve.
NoizCalc enables proactive noise management in advance of an event. Using system data from d&b ArrayCalc project files, along with geodata from Google Maps and OpenStreetMap, the software calculates a grid noise map, which accurately predicts any potential noise issues in the surrounding neighborhood. NoizCalc allows the user to identify, at the design stage, any potential noise issues – the advantage being that these can then be dealt with proactively, in advance of the production being setup.
"Noise is essentially unwelcome sound, and its effects can be extremely detrimental to an event's success – even to its long-term viability," says d&b's Daniel Belcher, Product Owner NoizCalc, Environmental Acoustics. "It may be that a slight rotation of the stage is enough to avoid a problem, but this knowledge is only useful before the stage is built. Or perhaps some adjustment to the loudspeaker system design will be possible, without adversely affecting coverage in the audience zone. Maybe the size and scale of a planned event, and its corresponding sound system requirements, are too ambitious for a particular location. In any case, NoizCalc gives you the information you need to take the necessary action before a potential problem becomes a real – and very likely expensive – problem."
He continues: "Without NoizCalc, you're back to relying on experience and expertise, and while there's a great deal of that out there, even the most experienced engineers can be unpleasantly surprised by noise complaints – and when complaints arise, it's too late. The noise has already become a problem because the event is already happening."
Developed in collaboration with SoundPLAN, a specialist software developer for environmental noise prediction, NoizCalc 4.0 imports system settings directly from d&b ArrayCalc. The software then offers a choice of international standards for its calculations (CNOSSOS-EU, ISO 9613-2 and Nord2000), depending on the user's requirement.
NoizCalc can model complex systems consisting of many types of d&b loudspeakers, including line arrays, point sources, subwoofer arrays, fill and delay systems. System designers can also simulate adjustments to the way each element of a system is placed and powered to achieve the desired result.
"We are delighted to bring NoizCalc 4.0 to market and push the boundaries of what's possible in noise prediction for outdoor events," commented Florian Hahn, d&b Product Manager, Software. "The advanced technology available in this tool ensures that our customers can assess – with great accuracy – the potential for off-site problems that typically remain undetected during the planning phase and only can arise when the event actually takes place. NoizCalc 4.0 is another important part of d&b's philosophy for providing the highest level of transparency and confidence to all parties involved in the planning phase of an event, and enabling the creation of an outstanding experience."