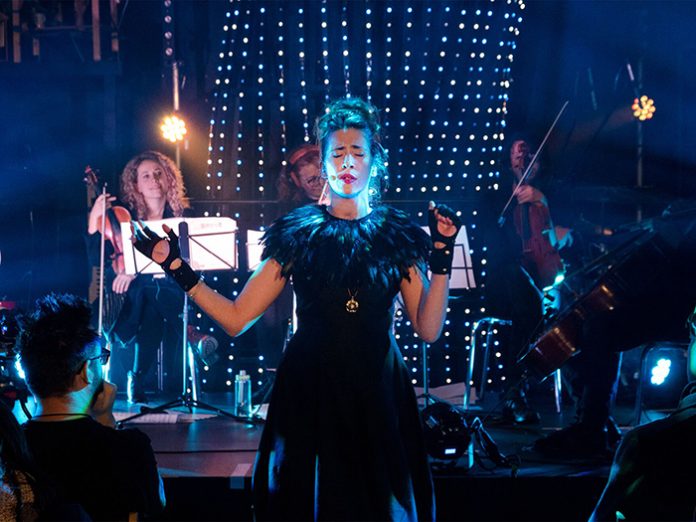 d&b audiotechnnik has partnered with Grammy award-winning recording artist Imogen Heap for her first tour in 8 years.
The live performances on Mycelia World Tour will be presented using its recently released d&b Soundscape system, which allows artists and designers to present more intimate and captivating acoustic spaces for their performances and events.
Designed to put sonic artistry at the centre of the sound production process, Soundscape can be used to achieve more natural imaging through source positioning, for sound that resonates with our intuitive understanding of reality, or to create sound art, a work of pure imagination.
Imogen Heap recently tested the Soundscape system at her barn in front of an audience of friends, innovators and musicians.
"Normally, in a typical gig setup, the sound would be dispersed across a stereo field in front of you," said Heap. "It's a bit like going to see technicolour for the first time after seeing black and white… Being able to move sound around the audience in 360 degrees, it feels like a whole other dimension." Heap added: "The sound on the tour is sound like we've never heard it before."
The d&b Soundscape takes sound beyond the realm of physics. It represents a crossover between art and science– a merging, and synthesis of creativity and engineering. For innovators like Heap, it extends the artistic and technical possibilities for sound and brings the concert experience to a whole new sensory dimension.
The Mycelia World Tour kicked off in Stockholm on 3 September 2018; its unique touring format bringing together music makers, fans and the industry for concerts, talks, workshops and exhibitions. The year-long world tour takes place in various European cities including Oslo, Prague, Copenhagen and Helsinki before moving to the US and beyond.
Following successful debuts at a range of concerts and events including the WOMAD Festival, Sting's musical The Last Ship, and the acclaimed 3D tour by electro pioneers Kraftwerk, the d&b Soundscape system will play a central role in the sound design of the gigs and concerts happening on the Mycelia tour.
The first d&b Soundscape technologies include a signal processor, the d&b DS100 Signal Engine, and 2 software modules, En-Scene and En-Space. En-Scene enables up to sixty four sound objects, a loudspeaker or instrument for example, to be positioned across the entire performance space, while En-Space adds reverberation signatures to the acoustic environment. These reverberation signatures recreate the acoustic profiles of world class music venues such as the Vienna Concert Hall and the world famous KKL Luzern.
Ralf Zuleeg of d&b audiotechnik, concluded: "It's about leaving behind the disconnection between what we hear and what we see. For audiences it will feel like diving into a complete different world."
Watch the exclusive Imogen Heap d&b Soundscape video here. Find out more via the following links to d&b Soundscape and the Mycelia world tour.