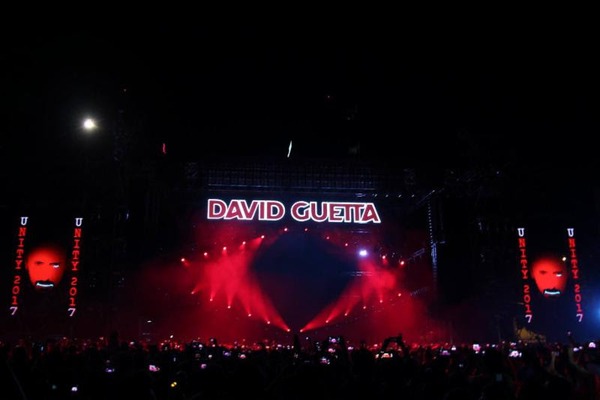 Superstar DJ David Guetta's headline performance at TimeShift was an explosion of mid-air beam effects as lighting designer Jonathan 'Leggy' Armstrong's Claypaky rig soared from the stage.
At the heart of Armstrong's rig was four pieces of automated truss forming a large diamond. The truss was rigged with 24 Claypaky Scenius Spot fixtures to provide super bright light output. The dazzling structure and design is part of Guetta's festival touring rig, expertly created by Armstrong, who has been collaborating with the world-renowned DJ and producer for many years.
Bogdan Gradisteanu, owner of Romanian Claypaky distributor Marbo Trade Systems, made some additions to the setup specifically for the festival stage, rigging Claypaky B-EYE K20s to provide wash, colour and additional effects and providing key light from the sides of the main stage.
"We selected the K20s because of the fixture's advanced CTO," said Gradisteanu. The award-winning LED hybrid wash, beam and FX light was rigged in two lines of four on either side of the stage, interspersed with Claypaky Sharpys. By alternating the two fixtures, the TimeShift team created varying textures of light onstage.
"The Sharpys are known as an industry standard in lightweight beam lights and are very popular fixtures in Romania due to their powerful, sharp beam and high output," Gradisteanu continued. "The fixture's beam would reach out into the audience to create a high-impact light show.
"Claypaky fixtures are very popular on the Romanian market and have been for the past 20 years. As the official Claypaky distributor in Romania, Marbo Trade Systems is known to provide the latest Claypaky products, which have been and remain a strong investment choice for our company."
TimeShift Festival showcased music from a variety of dance genres including EDM, techno, tech-house, trance, drum and bass, dubstep, indie-rock and alternative.
Spanning four days in July 2017 with acts across four themed stages, TimeShift hosted more than 100 electronic and alternative musical artists, including Faithless, DJ Snake and Orbital.