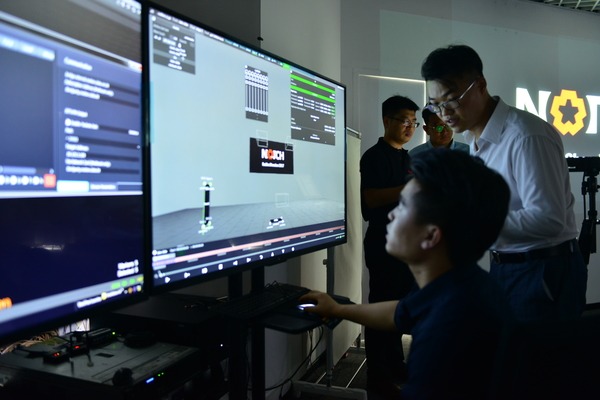 Redline, the Beijing-based d3 Technologies sales partner, has expanded with a new office in Shenzhen, China. The grand opening featured the official launch of d3's gx range of media servers and Notch generative real-time visual effects in the APAC region.
Redline's Shenzhen office will enable the technical solutions specialists to provide greater support and customer service to a growing roster of clients in South China. It also establishes a higher profile for the d3 product range in the region.
Redline have been a d3 reselling partner representing d3 Technologies in China since 2015. "We're delighted to see Redline expand their footprint to cover South China. Redline has experienced amazing growth over the past 2 years, and we're excited to see where they continue to take d3" said Fernando Kufer, d3 Technologies CEO.
"In the last two years we've used d3 to help us break into different fields, such as concert touring, conferences, broadcast, fixed installs and exhibitions. The new office and team in Shenzhen will continue to see us expand and will better serve our customers and partners in the Southern China region," added Jack Sun, CEO and Founder of Redline.
The Shenzhen office has introduced d3's gx range and Notch to the APAC region where the products are expected to find an eager following. The gx range, designed to push generative content to new heights, builds on the legacy of d3's pro range and boosts output processing power so users can render real-time generative content that responds to its environment. The gx hardware range offers Gold support for Notch within d3 and includes a Notch Playback License demonstrating the tight integration of d3 and Notch.
"Supercharged by powerful real-time rendering, Notch empowers creators with game-changing visual creation tools to revolutionise the creative process," commented Luke Malcolm, Director of Notch. "We work with d3 and Redline because they share our passion for delivering revolutionary products. That's why we're delighted to see the d3 gx range launch in APAC. I know first hand the high demands of this market and how eager clients are to create ever more incredible experiences. The gx range and Notch deliver to this high standard."
The Shenzhen grand opening featured interactive demonstrations driven by the gx 2, which highlighted how d3 can seamlessly integrate with both Notch and the BlackTrax real-time tracking system. Using the highly-skilled exercise of Chinese martial arts, a dynamic Kung Fu routine showed how the gx system can respond to a live performer in real-time, rendering high-quality generative content with a smooth frame rate. Technical Sales Manager for d3 APAC, Kevin Li, concluded "With the tremendous growth from China and the constant hunger for the next best thing, the gx range of products along with Notch is going to help push the creative boundaries of the next big show."