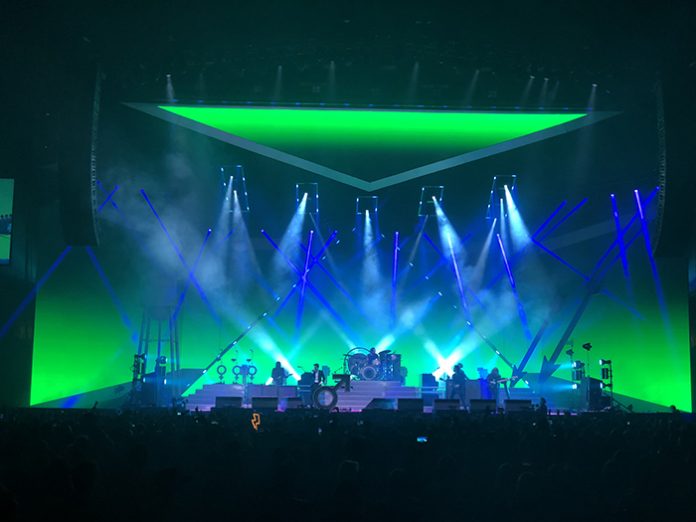 CyberHoist by CyberMotion is on tour again, this time with Vegas native band The Killers on their Wonderful, Wonderful tour. The band finished their European leg at the end of 2017 before starting their US leg at the beginning of 2018.
The primary driving visual elements on the stage were video-constructed triangles with one anchored on the stage and an inverted triangle hanging above it nicknamed "The Flying V" made up of video tiles that would fly apart, turn, twist and move into different shapes utilising the CyberHoist automated moving system.
12 active CyberHoist 1000kg and 1 MotionCue control system, all with spares, turned the Flying V into an ever-changing video spectacle. The automated hoists came from CyberMotion North America and controlled by David Diamond, the show operator and motion specialist.
Diamond explained: "Working with LD Steven Douglas, Michael Oberg and the entire team of The Killers was great. Steven had a clear idea of what he wanted. CyberMotion has the opportunity to automate what was known as "The Flying V", an inverted triangle video screen. Working together we were able to push the boundaries of what the screen could do for their previous Europe run. Adding barrel rolls and slants added to the visual effect of the 70' wide screen."
Rob Gardner, Tour Rigger for The Killers commented: "With the weight of the show and the closeness to some roof capacities, the abilities of the motors and the accurate real-time data feedback allowed us to produce smooth and safe multi hoist single object moves with confidence."
Production Manager Michael Oberg, who was praised for assembling an outstanding international team said of the CyberMotion products and support: "I found it refreshing to deal with CyberMotion USA. The initial contact was nothing but positive, PJ was super helpful, rental rates were pleasantly competitive and the real winner was Dave Diamond, the CyberMotion operator who was sent out on our tour. I have nothing but good things to say about CyberMotion Rentals, their equipment and definitely their very experienced and professional staff."