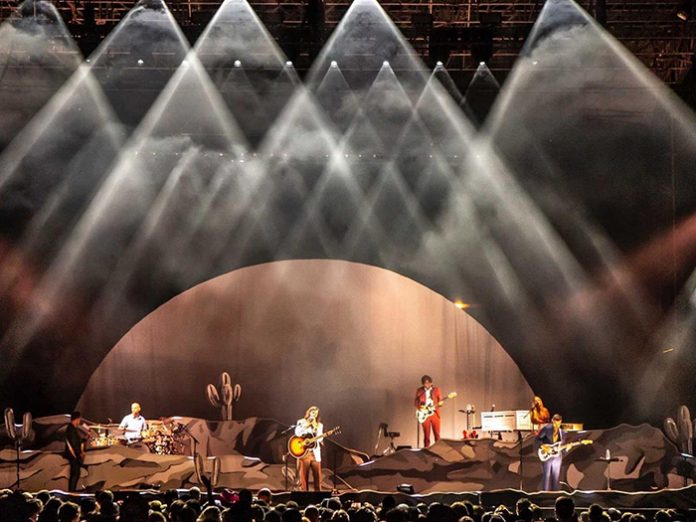 Adorned with illuminated representations of mountain ranges as well as cactus plants of different sizes and a large semi-circular backdrop suggestive of a setting sun or moon, the set of Lord Huron's latest US tour, curated by Cour Design, is clearly representative of the kind of environment that runs through the band's music.
Designer, Erik Anderson chose to illuminate this visual panorama with a collection of CHAUVET Professional Maverick MK3 Wash fixtures. "I specified the Mavericks," he said. "They are our workhorses, and we love their brightness, especially with the outdoor shows on this tour."
Depending on the venue, between eight and 11 Maverick MK3 Wash fixtures are flown on downstage truss, while eight other units are divided evenly between stage left and stage right. The downstage fixtures are used for stage and face light, while those on the sides are relied upon for colour effects, lighting the band, accenting scenic elements, and occasional crowd sweeps.
Kai Colucci, who programmed the lightshow, explained how the RGBW wash fixtures enhanced the design. "The Mavericks were the only fixtures in the rig that were used to light the band," he said. "We had no other key light. Especially important for Lord Huron was making the band pop against the set pieces."
Changing colours and beam angles from the Maverick fixtures, the design team is able to elicited widely different looks from the stage's scenic pieces, creating a western desert feeling for one song with deep reds, then cooling things down with whites for another tune, before a giving rise to a more mysterious aura with split colours for a third number. All the while, the smooth, even key lighting keeps the band standing out from the distinctive background scenery.
"By playing with colour and intensity from the MKs we're keeping the flow of looks interesting," said Colucci. "We're also having a lot of fun trying different side lighting. Kelsey Gonzales our LD has been doing a great job on the boards."
From his perspective, Colucci describes the show as "the most scenic" he's ever done, noting that "the music didn't call for a ton of flashy lights." Instead, it required "setting scenes," the kinds of scenes that stick in the minds of audiences for a long, long time, just like those in the movies that Lord Huron has enhanced with their music.