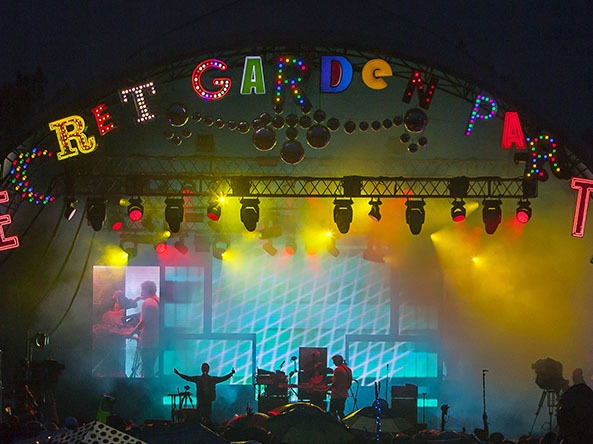 Secret Garden Party has been one of the coolest, funkiest, most respected independent arts and music festivals on the UK scene. Staged at Abbot's Ripton near Huntingdon, UK since 2004 by Fred Felloes it was hand-crafted as a boutique alternative to the established mainstream music festivals as is known for its incredible location and amazing vibes.2017 marked the last SGP event, finishing on a high note of success and major impact in the world of alt.culture.
West London based lighting and visual rental specialist Colour Sound Experiment has been involved with the event for the last decade and this year supplied stage lighting to six main live performance areas and video to one. Additionally they delivered lighting and special effects to over 40 other venues, bars, lounges and clubs dotted around the beautiful site, all helping revellers enjoy their final chance to catch that special SGP ambience.
Colour Sound's crew of 22, led by Alex McCoy, arrived on site on Monday morning and had to be ready for a Friday event kick-off.
The six live stages included the Dance Off stage, where Sam Akinwale created a bespoke TLG lighting feature on a scaffolding structure above the FOH platform as a moving tribute to the late Toby Lovegrove.
For the last few years, Lovegrove and Akinwale have designed the Dance Off lighting together with masses of energy and creativity. Lovegrove, regular Colour Sound technician, lampie and all-round amazing person died suddenly and unexpectedly in February, leaving a huge hole in the hearts of many people. Akinwale ensured that this year's lighting wowed the crowds as always and was also a fitting farewell to Lovegrove, whose spirit was very much there.
A mirror ball was suspended at the top of a large TLG sign, decorated with festoon lights and rigged on a scaffolding arch above the FOH area.It was a large open air stage with a striking set piece at one end complete with integrated DJ booth which was lit with assorted LEDs.
Around the arena they positioned scaffolding towers rigged with Colour Sound's new LightSky AquaBeam waterproof moving lights. The company invested in 100 of these at the start of the 2017 season and proved a shrewd move as they have all been out every week since the end of May, proving themselves invaluable in the erratic English weather.In the middle of the space the traditional dance-off boxing ring was constructed, complete with hay-bale seating.
Ten Chauvet Colorband PiX LED battens were used for dressing the stage and set with light, together with ProLights AIR6PIX moving LED battens and waterproof LED PARs, with 2-lite Moles scattered around to highlight the audience.
For those fixtures that were less weatherised, Akinwale created some elaborate custom waterproofing utilising heavy-duty plastic, which worked really well for the full three days of the event.
Lighting was operated by Akinwale using an Avolites Arena console.
The Main Stage was a 1.5 width saddle-span structure giving way to three large arches for which featured lighting was designed by Jon Rickets, another Colour Sound regular who has also worked directly with SGP for over 10 years.
The shape of the structure made rigging interesting and the main lighting was hung off two 11-metre long trusses flown down the sides – 11 metres being the optimum length for getting the best results onstage below.
The moving lights here were all Robe – a mix of 12 BMFL Spots, six MMX Spots and 12 Pointes, joined by 12 Martin Atomic strobes and some 4-lites.
This was designed by Jon and Chris Foot and operated by Chris using a ChamSys MQ200.
One hundred and nine panels of Colour Sound's proprietary BT-6 LED screen was supplied and rigged upstage and the three headlining artists – Crystal Fighters, Metronomy and Toots and the Maytals – all brought their own lighting designer / operators, who worked with the Colour Sound crew.
The Where the Wild Things Are stage is a semi-permanent structure with a tin roof decorated with bark, tree branches and other foliage, manipulated shrubbery and natural materials collected from the grounds and woodland of the Georgian farmland on which the site is located. It was a little bit like a tree house DJ booth which blended perfectly with the natural surroundings.
Lighting was organically operated by John Richardson and comprised Chauvet R2 Spots and Wash moving lights.
Tucked away on one of the woods was the Lost Rave, a favourite late night party hotspot. This year, being the final bash, McCoy and the team ensured that they rigged as much and as many various lights around the place as possible.
These were wedged in the branches, ratchet strapped to tree trunks and ensconced in bushes and other foliage as well as a few on scaff towers – the more jauntily angled and idiosyncratically rigged the better.
Fixtures included 16 IP-rated Colorband PiX, 6 AquaBeams, UV canons and festoon, all run by Jenn Webber and Stu Barr from an Avolites Tiger Touch II console which looked awesome.
Kitch Inn lighting was operated by Nick Hamblyn using an Avolites Arena with six Chauvet Rogue R2 Spigots, six Claypaky a.leda K10s with B-Eye lenses for the washes and a selection of two light Moles and LED PARs.
Everyone worked hard and the out was particularly arduous with the mud to contend with but all agreed it was an incredible three days and an excellent send off for a party concept that always put the emphasis on delivering a quality, interesting and stimulating guest experience first.
"SGP has a very special place for all of us," commented Colour Sound's Haydn Cruickshank. We are very proud to have felt such a part of it, each stage has been totally unique every year and the organisers have always embraced high production values and ensured their community has enjoyed the best possible experiences.
"While I am sure it will not be the last live music or event project for the organisers, it was an ideal time to move forward and reflect on an amazing concept that grew almost unexpectedly into a landmark event."