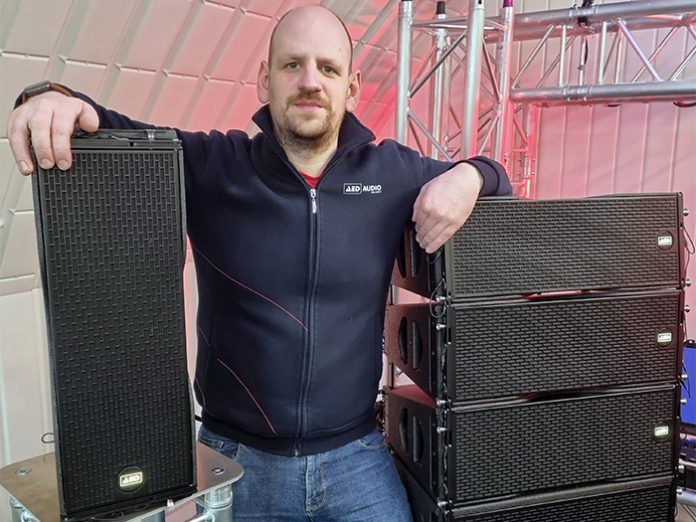 Collaborative Creations (CC) has entered into a sales team partnership with AED Audio in the UK. 
CC Founder and Director, West End Associate Sound Designer, Sam Vincent, confirmed: "AED Audio has come up with a brilliant product offering in the FLEX and SOLID Series speakers. Incredibly versatile, they suit a wide range of applications and the 15″ Front Loaded SOLID15 sub has an impressive low range for a sub of its size. It's the accessories for the range, however, that represent the biggest step forward I have seen in a long time. As a system it's very user friendly at every level, whether for a single install or for multi-application use, for example, in a multipurpose or multi-format venue, or for a hire company."
As a division of the AED group, a resource trusted by production hire companies across Europe, the AED Audio product range is inspired directly by the needs of AV production hire companies with which it works so closely on an everyday basis.
AED Audio's all-in-one range has been developed with the experience and knowledge of audio professionals. Comprising the FLEX Series of full range cabinets and the SOLID Series of sub bass units, the system is designed for efficiency. Multipurpose and scalable, the FLEX and SOLID Series combine as a point source system, can be arranged as a compact line array flown with up to 16 boxes, and even used as a column array.
Within the single full range FLEX6 cabinet of the FLEX Series, lies the versatility of the system. FLEX6 incorporates a tool-free rotatable horn. Transposable through 100-degrees on one axis and 15-degrees on the other, the FLEX6 can be positioned with ease to serve either a vertical or horizontal plane. With no need for tools, the FLEX6 horn can be simply and securely transitioned by hand.
The SOLID Series features the SOLID15 15-inch powered subwoofer, which can be used standalone, flown or ground-stacked, and the SOLID28, a double 18-inch band pass powered subwoofer for ground stacking only, with a 3.000W RMS robust amplifier module for a frequency response of 25 Hz to 150 Hz.
The FLEX and SOLID Series are so versatile that with five optional rigging accessories, no less than 23 different loudspeaker configurations can be accessed. The all-in-one Series' feature on-board power and processing. For connectivity the system is Dante compatible and also takes line/mic inputs, so is ready to go out-of-the-box.
AED Audio is a strong nod to the very roots of the AED group. The Europe-wide AV equipment bank for lighting and sound solutions, established itself back in the 80s as a dry hire only company with its own speaker range designed using the components of several brands. Then as now, few anticipated its customer needs like AED.
Experience the versatility of AED Audio's FLEX and SOLID Series audio solution, by appointment only, at Collaborative Creations' London-based demonstration studio, located near Waterloo Station.