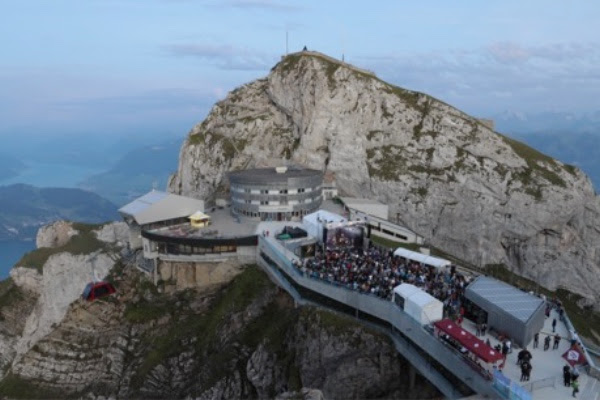 Over 2,000 metres above sea level, local musicians Dada Ante Portas, Henrik Belden and Mando Diao, played storming sets, their production supported by audio specialists CODA Audio and Switz distributor, Schallwerk Audiotechnik GmbH.
Stefan Zumstein-Uiting of Schallwerk, commented: "Pilatus on the rocks would be a challenge from the very outset. Providing adequate stage equipment for a festival on an alpine mountain-top at 2,123 metres has to start with transport. This was about as far as you could get from just parking some trucks directly behind a stage, so it was either helicopters, which we dismissed because of unpredictable mountain weather, or a cogwheel railway built in 1899!"
Despite being held at the world's steepest cogwheel railway, Schallwerk's design, stage set-up and system did justice to the acts without any audio-compromise, and were solid enough to withstand the weather, as well as remain compact as possible to mitigate the transport issue. While in the midst of the busy tourist season, it took 8 extra day journeys for the production and 3 days for bands' equipment to arrive at the site.
"We settled on a combination of AiRAY and ViRAY. Under normal circumstances at an event of this size, 8 ViRAY per side would easily do the job but at over 2,000 metres, the air is thinner and more energy is required to compensate for the loss of sound pressure this causes. That accounted for the choice of the 12-inch AiRAY driver over the 8-inch.
"Our customer, Pilatus-Bahnen AG and the bands were delighted with the results and many people in the crowd also took the time to remark on how great the sound was. The system's performance was truly sensational. What was really impressive was the stability of the sound even in occasionally gusting wind. Again, the size of the cabinets versus the power they deliver was also a huge advantage in relation to the unique nature of the site," Zumstein-Uiting concluded.