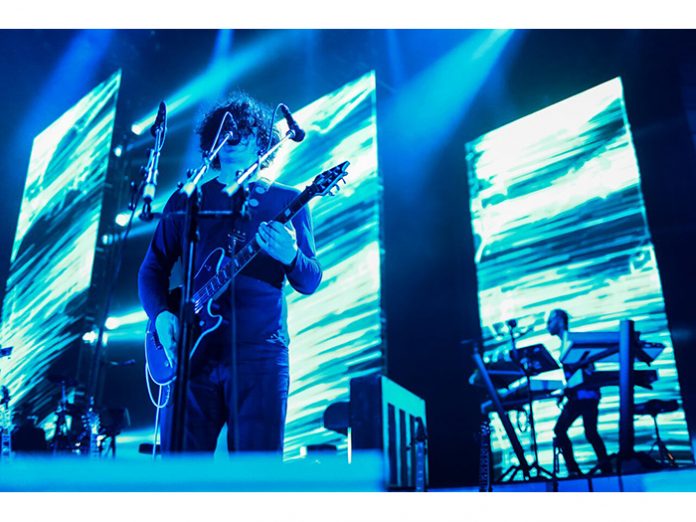 Jack White, frontman for The White Stripes and a solo artist, kicked off his headlining tour of North America and Europe with a large complement of Claypaky Sharpy Wash fixtures supporting the show. ACT Lighting is the exclusive North American distributor of Claypaky in North America.
White's tour follows the release of his new solo album, Boarding House Reach. The Detroit native began the tour in his hometown in April and will play dates across the US and Canada before heading to Europe. Then he will return stateside for more dates in the fall and possibly into 2019.
Montreal-based Luz Studio designed the show's production, lighting and video elements. Â Using a blue-and-white colour palette and White's penchant for the number three, or multiples of 3, the design features "3 column-shaped rotators upstage with video on one side and 3 rows of 12 Sharpy Washes on the other, which can be positioned individually allowing for a wide variety of looks," explained Tour Lighting Director Michelle Sarrat.
"There is a LED-backlit stepped semi-circular riser, which the band plays on top of, while Jack's world is downstage centre allowing him to travel between the band members freely." Â Additionally, there are two rows of nine Sharpy Washes on the floor upstage and downstage to provide aerial looks and band illumination.
"The show has no set list – it's all live. We have a pool of about 70 songs, and the show is always different. Having flexibility in how we use lights and video is great for the show," said Matthieu Larive, Creative Director at Luz Studio.
"We chose the Sharpy Washes because they are very bright, beam-style fixtures that are still lightweight and compact enough to place on the back of the rotators," said Sarrat. Â "And they also have colour mixing capabilities, which is important because we need to maximise our options in a limited palette."
Upstaging is the lighting vendor for the Jack White tour. Rob McShane is the Video Director, Kit Blanchard the Production Manager and Lalo Medina the Tour Manager.
Francesco Romagnoli, Claypaky Area Manager for North and Latin America, added: "This is a great team bringing to life the work of a great artist! We're thrilled to be involved."