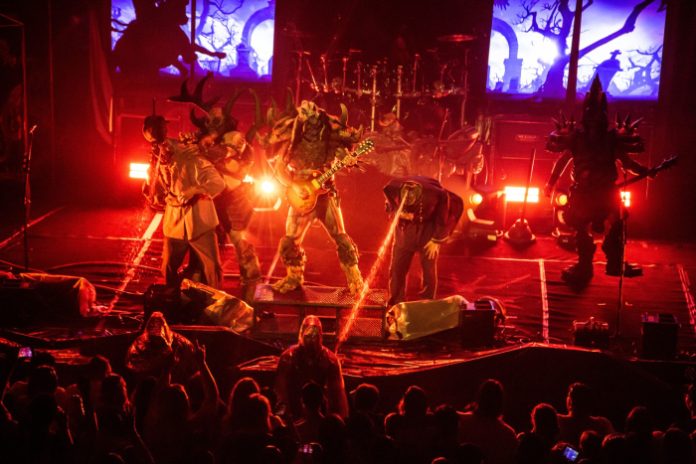 Heavy metal band Gwar recently wrapped the fall North American leg of their Black Death Rager World Tour, in which Claypaky Sharpy Plus Aquas played a key and unusual role.
The tour marked the third for Nick Drake as the band's Lighting Designer; he is also a Light Technician with Richmond, Virginia's Lite-Tek Entertainment, a lighting rental and production company which supplied the fixtures. Lite-Tek has a history with Gwar, which also hails from Richmond, having worked with them multiple times over the years, including providing lighting and studio space for the band's 30th anniversary live stream from Lite-Tek's warehouse during the COVID pandemic.
Gwar's fall tour kicked off at the Blue Ridge Rock Festival in Virginia in September and concluded in Baltimore in November. Sharpy Plus Aqua fixtures add an IP66 rating to the award-winning Sharpy Plus platform, making the moving heads perfect for outdoor events and challenging environments that call for beam and spot luminaires in a single, flexible package.
A Gwar tour, as fans have come to expect, is a very challenging environment indeed. "Massive amounts of liquids are used in the show," said Drake. "We went through three 30-gallon tanks of water every night for part of the show. I had four Sharpy Plus Aquas upstage and two downstage in the splash zone, but all six were consistently soaked. All of them really needed to be protected against water. The Sharpy Plus Aquas, with their IP66 rating, made perfect sense."
Drake explains that on previous tours he used only strobes on the ground, but he was eager to bring out spots this time. "They had to have an IP rating and they had to be robust enough to withstand two months on tour. Lite-Tek's acquisition of Sharpy Plus Aquas at the start of the tour was perfect timing."
The tour featured music from the band's 2022 album, The New Dark Ages, which gave a different vibe to the show, Drake noted. "The new music is a lot more dramatic and demands big looks and moods instead of super hard-core strobes. With just six Sharpy Plus Aquas as my spots I could create giant, sweeping looks and movements for the new music and weave in their old style, too. I used the fixtures in new and unique ways to make really cool scenes for every song."
He found that the versatile fixtures enabled him to create big looks as well as intimate settings. "I could single out characters in a very character-driven show. For Rise Again, I was able to focus on slowly building an intimate scene of two characters sword fighting with the spots defining the look of the characters on the sides without using any other fixtures. I could really highlight them and make a small, intimate space on the stage for them."
In contrast, Berserker Mode, at the end of the show, featured a 10ft by 7ft alien monster and flying intergalactic fluids. "The spots let me create really big looks for this scene no matter if we were playing in a small club or at the Blue Ridge Festival," Drake said. "The IP rating was a necessity here. "I liked how the Sharpy Plus Aquas meshed with every rig I had, no matter what the stage," he continued. "They were never too overpowering or underpowering. They're just like Sharpy Plus but waterproof!"
Drake says the fixtures will be his "number one choice for Gwar in the future. "The band loved them. They made the band look good in every scene and let them do what they wanted with their performances without worrying about the lights."
George Masek, Strategic Marketing Manager for Claypaky, concluded: "Nick created a great show in one of the most challenging stage environments you can imagine. I've been a Gwar fan for years, so it was special to be part of his production. The added benefit is that we now know for certain our fixtures are protected from intergalactic fluids – something we hadn't effectively been able to test for in R&D."