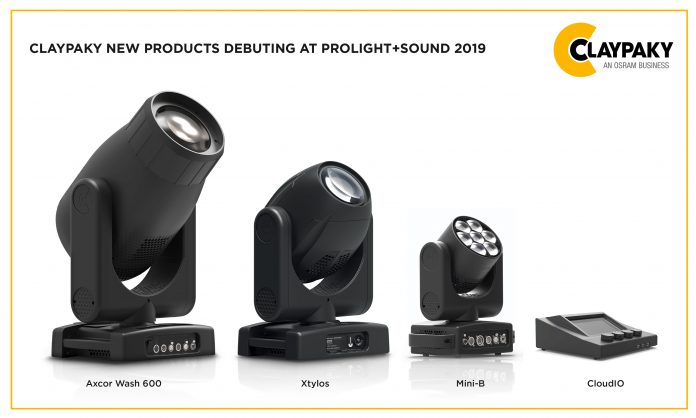 Many surprising new Claypaky products are debuting at ProLight+Sound 2019. Xtylos is an innovative, compact beam moving light making use of a tailor-made laser source (Patent Application filed). It features an RGB additive colour mixing, where coloured light beams are as bright as a white light beam!
The Xtylos is the first moving head light with a laser light source, and this opens up new, surprising prospects for the development of the entire entertainment lighting world.  Axcor Wash 600 is a versatile light, which further enhances the Axcor LED moving head range and naturally complements the Axcor Profile 600. The Axcor Wash 600 fits a four-blade framing system, working with any lens type you choose. The fixture is available with PC (standard), Fresnel or Clear lenses. The three types are interchangeable and can be purchased separately.
Mini-B is the smallest LED beam light ever made by Claypaky for the professional market. Although it weighs just 7 Kg and measures only 34 cm, Mini-B features the most modern optical and electronic technology. The light source is based on 40 Watt Osram RGBW LEDs and its central LED may be controlled separately from the external ring of LEDs.
CloudIO is an IoT device (Patent Application filed) which provides technicians with complete diagnostics for Claypaky fixtures. When the lights run checks after use, the unit collects data on hours of lamp life of each fixture, the conditions of various components in the units and update the firmware, simply by connecting to the cloud. The CloudIO is equipped with a retrofit system, which allows it to be fitted to most of Claypaky lights.
Sharpy Plus is the first true 100% HYBRID unit, able to be a perfect beam light and a perfect spotlight and featuring a top-ranking-performance Osram Sirius HRI® 330W X8 lamp HY B-EYE is the latest development in the B-EYE range, with the same successful features, which have been enhanced and further enriched: the HY B-EYE is more powerful, more efficient, more interactive with the media server (Kling-Net protocol included), more versatile and quieter than ever.
Featuring a 500W white LED engine, Axcor Profile 600 is the new benchmark on the medium-high market, standing out for its versatility, its high-level performance and the superior quality of its light.
Axcor Profile 400 and Axcor Spot 400 are the most professional moving head LED light in the medium category, packed with all the most advanced lighting, mechanical and electronic features.