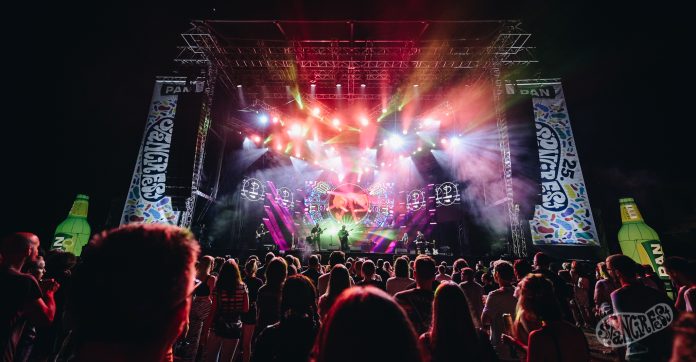 A feature of this year's Špancirfest, a famous Croatian street festival held every August since 1999 in Varaždin, was the appearance of the tribute band, The Croatian Pink Floyd Show. An array of Claypaky Sharpy X Frame/FD and Midi-B fixtures illuminated their dynamic live show.
Špancirfest took place throughout Varaždin's city centre and featured various street performers, theatre shows, stand-up comedy, concerts and more. It's recognised as an important cultural event in Croatia.
The Croatian Pink Floyd Show is a project led by producer and sound engineer Johnny Grudić who founded the band in 2016 and launched performances two years later with the mission to give the audience the most authentic Pink Floyd experience possible. That's where Dino Petrina stepped in as a lighting designer. Production Manager, Denis Fulir was responsible for the show on the main stage with production by Croatian rental company IVAS Group and stage design by Miloš Pavičić. It was one of Croatia's biggest local productions ever.
Petrina, who is known for his dynamic concert lighting and well synchronised busking, realised the challenge of lighting the show considering the complexity of Pink Floyd performances. However, he felt he could relax a little when he discovered that Claypaky fixtures were available to him knowing the brand's reputation of never disappointing when used in a performance.
He used 20 versatile Claypaky Sharpy X Frame/FD fixtures as spotlights to deliver "a nice output, great colour mixing, great zoom range and focus for highlighting individual musicians, nice gobos and prism for ambient looks, and strobe effects for high energy." The Sharpy X Frame/FD is tailored for broadcast applications delivering camera-friendly tonalities.
A well-known Pink Floyd trademark is the circle truss behind the band so the tribute show couldn't do without it. Petrina picked eight Midi-B moving heads to do the job on the truss. "With their amazing output, zoom range, pan-tilt speed and colour mixing it was an easy choice," he said. "Midi-Bs did an absolutely perfect job."