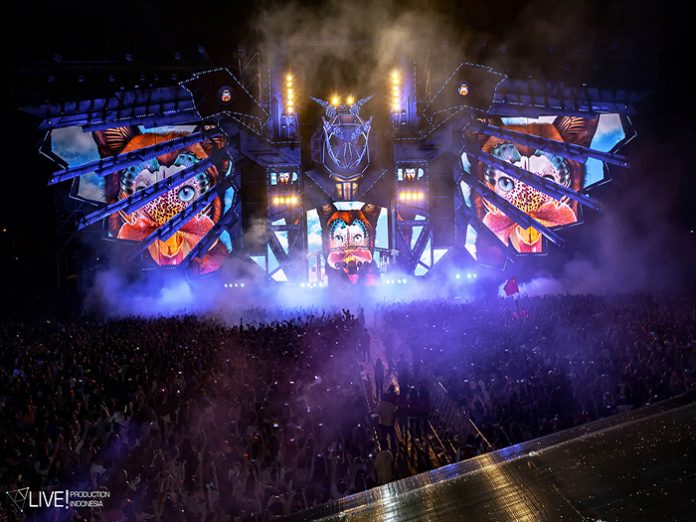 Since moving to the Djakarta International Expo (JIExpo) in 2014, the Djakarta Warehouse Project (DWP) has blossomed, with Clair Brothers as an indispensable ingredient, into an all-out festival that spans 2 whole days.
Clair Brothers was the first and only choice of the production company – Live Production Indonesia – based on its partnership since 2012 with Clair Brothers' rental partner, Total Audio.
Houwdy Boenadi, managing partner of Live Production Indonesia, said: "I first experienced Clair Brothers speakers in 2012 and was immediately impressed. Since then I've come to the conclusion that there is no match for Clair Brothers signature sound, especially in a space this big. The audience area alone is 390 meters long by 100 meters wide. It's a lot of space to cover."
Using a combination of experience with Clair Brothers gear and expert acoustic ingenuity on a grand scale, the resulting sound system consists of a myriad of Clair Brothers equipment: 78 i218-LT/i218-M, 68 iS218-M, 12 i212-M, 16 CS218-M, 4 R2D-M and 8 12AM speakers. The FOH consoles employed for the festival were the Midas Pro6 and the Avid Profile; with the monitor console an Avid Profile.
The iconic outdoor stage called 'Garuda Land' is lavished with an ornate historic design inspired by the mythical Garuda bird of the Indonesian coat of arms. DWP is an impressive project that highlights the numerous genres in the dance music field and is recognised for its eclectic lineups.
DWP attracts the world's biggest EDM acts including Steve Aoki, Skrillex, Diplo, Major Lazer, David Guetta, DJ Snake and so many more. Houwdy proudly notes, "With the best DJs and highest production quality sound, lighting and visuals, Djakarta Warehouse Project is one dance festival you must experience in your lifetime."
"Because this is our fourth year working this festival," continued Boenadi, "many of the early challenges have been worked out. Clair Brothers speakers require very little tuning and tweaking to result in a sound experience that's perfect for everyone, including the acts up on stage. With the support of Total Audio and Wayne Grosser from Clair Brothers Australia, this year's show was satisfying on every level."
So, impressed with the Clair Brothers sound and because of so much positive feedback, Ezar Darnadi, technical director of Live Production Indonesia, decided to add Clair Brothers i218-M and CS218 speakers in VIP areas around the Expo. Boenadi summed it up: "Working with Clair Brothers products puts our minds at ease – great speakers, great system and great support make them the top choice in Indonesia."