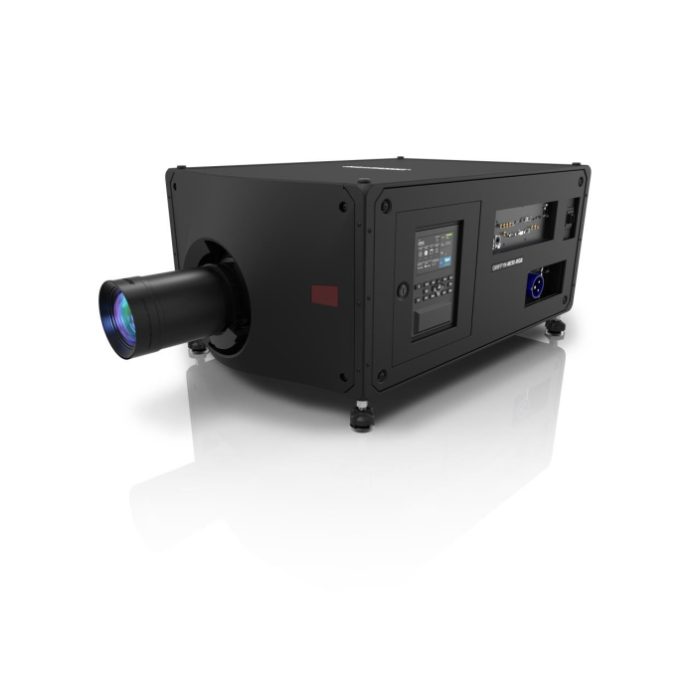 Christie will demonstrate how its technologies form end-to-end visual solutions to inspire exceptional experiences, from innovative displays including RGB pure laser projection and LED video walls, to powerful projection software tools, content management and processing at ISE at Fira de Barcelona Gran Vía, from 31 January to 3 February in Hall 3, stand 3K600. 
"Our technologies are designed to work well together, and we are going to highlight some of the many ways they combine to form complete, integrated solutions, thereby enabling our partners to focus on creating the best experiences," said Arlonna Seymour, Executive Director, Corporate Marketing, Christie. "We have a lot to talk about and showcase; from leading the way in RGB pure laser projection innovation, to stunning display solutions across virtually any application, we deliver powerful tools for powerful experiences. Layered with service and support from Christie Professional Services, we are excited to start the conversation at ISE with partners old and new and push the boundaries of what can be achieved."
At stand 3K600, Christie will showcase technologies from across its range, including the launch of the Christie 4K22-HS laser projector. The new model strengthens the successful HS Series – Christie's highest-performing 1DLP laser projector line.
The Griffyn Series all-in-one RGB pure laser projectors will shine brightly at the show. The Griffyn 4K50-RGB – the lightest, brightest, and most energy-efficient laser projector available in its class, at 15.9 lumens per watt hour – is also the chosen projector line for a "Future Society Showcase Project" at Expo 2025 Osaka, Kansai, Japan, and the Griffyn 4K35-RGB model delivers 36,500 lumens in a compact design, weighing only 81 kg. (179 lbs). Both projectors will demonstrate their ability to illuminate screens with superior colour performance for vibrant, long-lasting, and immersive visuals for demanding large-venue applications while delivering best-in-class operational efficiency for lower power consumption.
Amongst a feature-packed stand, creative video wall displays will showcase the versatility and architectural design capabilities of Christie MicroTiles LED in various pixel pitches, as well as the improved visual acuity and energy efficiency of the new 0.75mm and 1.0mm models. In addition, a hands-on display will showcase how MicroTiles LED proprietary technologies make installations easy, and the full-featured Core Series II 1.2mm LED tiles will form an eye-catching archway.
Additional areas will showcase an array of technologies and solutions, including Christie's newest innovations and developments in image processing, AV-over-IP and content management. Demonstrations will include Pandoras Box's updated software, sensor-activated interactive content using Widget Designer with Christie AirScan, blended projection with Mystique Lite camera-based alignment software, and more.
Attendees will also have the opportunity to learn more about Professional Services, a team of trained experts who ensure the highest quality visual experiences and keep systems running flawlessly. From projection mapping, flying theatres and other unique attractions, Professional Services provides a tailored service-based approach to each customer with 24/7 NOC technical support, onsite services, extended parts coverage, remote monitoring, and more.
On show for the first time –and active in the meeting room on the Christie stand– is Christie CounterAct UR10, the first commercial UV disinfection fixture with Care222 and UVC-LED light. CounterAct UR10 kills both airborne and surface pathogens and is designed to add another layer of defence for occupied, indoor spaces. A CounterAct CA20 UV disinfection fixture will also be active to provide additional protection on the Christie stand.
In a discussion exploring far-UVC technology, Mike Bosworth, Executive Vice President, Enterprise, Christie, will present "UVC Disinfection Systems: Game-changing technology in improving indoor air quality" at the Smart Building Conference, location CC5.3, on 31 Jan at 4 pm.
Projection screens on the Christie stand have been supplied by Legrand AV, who will use Christie GS Series laser projectors on its stand (3N500). Euroscreen Int will use a D16WU-HS Series projector on its stand (3F400), and SY Electronics (stand 2P250) will use two Christie 4K10-HS projectors.