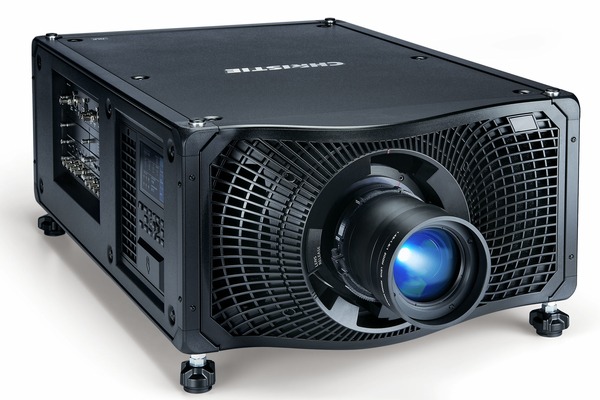 Chema Siscar, one of Spain's leading experts in video mapping has carried out the first mapping on a basketball court in the region of Valencia, using 2 Christie Boxer 2K30 projectors, operated by Pascual Rodrigo, Technical Director of Audiovisuales.tv, a Valencia-based AV company.
The mapping was prepared for the La Fonteta pavilion, for the warm-up prior to the third leg of the semi-finals of the Endesa league between Valencia Basket and Baskonia. Just 10 minutes before the match got underway, the lights were turned down in the La Fonteta pavilion and the court was turned into a gigantic 25m by x 15m screen onto which a spectacular 3D video mapping commemorating Valencia Basket's 30th anniversary was projected.
The 2 projectors were rigged in tandem in the box reserved for the press at a throw distance of 30 metres, working with wide-angle lens inclined at 17° to cover the whole court. The projectors were run using a Dell Precision 7710 workstation equipped with Resolume Arena 5.0.4 audiovisual management software. Endesa funded the 3-minute video mapping itself.
Pepe Blasco, Audiovisuales.tv Manager, commented: "The Boxer is the perfect option for big events, from large-scale mappings to projections at congresses. What makes it so good is the fact that the software allows you to make quick adjustments in the projection area. In addition, because it has six lamps, if one fails during the projection nobody will notice. And the fact that it weighs just 68 kilos and is compact means that transporting it is so much easier for two people. But what I like best about it is that it is so quiet. This is particularly important when working indoors. You won't even know it was there."
"The truth is that the Boxers are really reliable. They performed flawlessly throughout the event. They provided exceptional power and ensured an optimum result. The audience were really excited before the mapping and you could tell that they got what they were looking for, and then some more," Siscar explained.
The Christie Boxer 2K30 projector has 3DLP technology, 30,000 lumens and 2K resolution and comes with the built-in Christie TruLife award-winning image processor, which affords incredible bit depth and high frequency images.