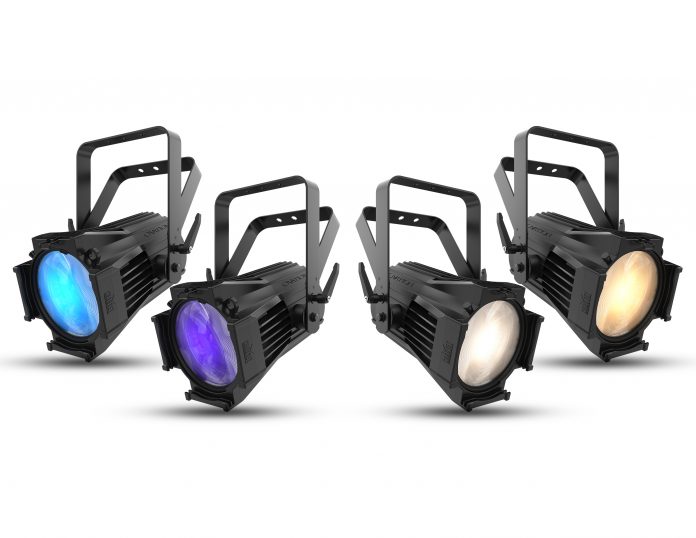 Chauvet Professional's has expanded its stage lighting series by introducing a collection of Ovation par fixtures.
Available in RGBA-Lime, warm white, variable white and UV models, the new par fixtures feature 16-bit dimming, a single-source homogenous light, RDM and Variable Pulse Width Modulation. All of the new pars come with interchangeable lens plates for medium and wide beam angles, and they accept standard 7.5" beam shaping accessories.
The three non-UV par fixtures also feature a high CRI, which results in more realistic lighting for stage and broadcast applications. Virtually silent in their operation, the new pars have the bright output that designers have come to expect from the Ovation series.
"We're very excited to be able to offer designers Ovation level performance in LED par fixtures," said Albert Chauvet, CEO of Chauvet. "The introduction of the Ovation pars rounds out the series and allows us to offer a complete lighting solution."
The new line of Ovation par fixtures includes Ovation P-56FC, Ovation P-56WW, Ovation P-56VW and Ovation P-56UV.
Featuring the same advanced full RGBA-Lime colour mixing LED system found in the Ovation E-910FC ellipsoidal, this powerful compact fixture can produce colours ranging from subtle pastels to punchy saturates, as well as nearly any temperature of white. Ovation P-56WW has an output comparable to a 1,000-Watt PAR 64 lamp. It produces a homogenised, single-source, flat and even field of light by using the same efficient warm white LED system found in the award-winning Ovation E-260WW ellipsoidal.
Ovation P-56VW produces nearly any temperature of white with high CRI and CQS. The par's colour temperature can be even further adjusted for +/- green. It features the same 6-colour LED system found in the Ovation E-930VW. The Ovation P-56UV is a first of its kind par fixture, this unit produces a flat and even field of true (365 nM) UV light with minimal projected visibility via a homogenized, single-source LED.
"Our goal is to broaden the designer's creative options," said Chauvet. "This is what our design philosophy is based on, and our par fixtures reflect this commitment."