Art is wherever you find it, and wherever it goes inspiration and hope are sure to follow, even amidst a pandemic. This is beautifully evident to visitors the moment they pull into the parking lot of ARC Sound Stage and Lighting and find themselves immersed in a graffiti garden of 24 street art murals, and two graffiti covered sea containers that were used by the company prior to the COVID-19 lockdown.
Driving through this parking-lot-turned-art-park provides people in Norwalk with a welcome reprieve from their daily, and unfamiliarly restrictive routines, allowing them to soak up the spiritual benefits of art without having to leave their cars. The colourful creations also undoubtably inspire the big-name New York City house and EDM DJs who come to Connecticut three times a week to perform livestream shows as part of ARC Live. For Gene Morrell, the owner of ARC Sound Stage and Lighting, the graffiti exhibit and livestreams are both feeding art's eternal role of uplifting the human spirit, especially during times of crisis.
"We are big on using art to touch the lives of people in a positive way," he said. "This is why we are always eager to get involved in community art projects, whether it's putting on block parties or commissioning local artists for graffiti – and it's why we do the livestreams."
Morrell and his team got the idea to produce their thrice-weekly live streams "about ten seconds" after the government's lockdown order went into effect. "We couldn't sit idly by," he recalled. "So, we had to do something to express ourselves."
Once this decision was made, the details for ARC Live fell neatly into place. First was the question of finding a location for the livestreams. ARC is located right next door to the historic Wall Street Theatre, which the production company installed sound and lights in as part of a recent renovation. With the theatre's regular programming on hold because of the lockdown, its owners agreed to lease the venue to ARC for livestreamed shows.
Next was the question of talent for the livestreams. With about 90-percent of ARC's business coming from Manhattan, the company has deep roots in the New York entertainment world. ARC lists Madison Square Garden, Disney Theatrical Group and NBC Sports as clients, while Morrell and his team members Dylan Scott and John Ospina, are LDs and TDs at the city's Tao Group locations, such as Marquee and Lavo nightclubs to name a few. "The DJs who appear are friends," said Morrell. "They are glad for the opportunity to do something creative."
Safety is the primary concern in the productions of the livestreams. The performing DJs enter the theatre through a separate entrance, accessible only by them. They are limited to one guest. All equipment is sanitized before and after their performance.
"We maintain strict social distancing," said Morrell. "I am running the lighting from the middle of the empty 1,000-person capacity theatre, while our sound and video guys are in their own separate control rooms, so we have a minimum number of people in the building for the shows'"
In keeping with the artistic values at the heart of ARC, the livestream shows, which are streamed on Twitch.tv over a 10Gb fibre line, have the look and feel of a brilliant mural come to life. Their lighting is big, broad, multi-faceted, and throbbing with excitement, filling the theatre stage with colour and movement. Rather than scaling back for the livestream format, Morrell pushes the envelope for his busked 2 to 4 hour shows, which use about seven universes and feature a robust mix of fixtures that are often anchored by CHAUVET Professional Rogue RH1 Hybrid, Rogue R1 Wash fixtures and COLORado par style units.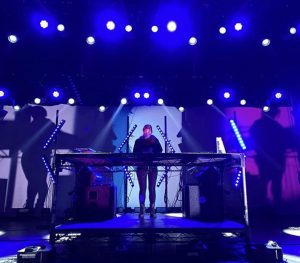 "I get a lot of versatility out of the Rogue RH1, and their output-to-size ratio makes them well-suited for this type of application," said Morrell. "The colour rendering of the Rogue and COLORado fixtures is also very important, since it comes off very vibrantly on camera."
Although Morrell serves up a continuous flow of big, sweeping looks with a myriad of moving parts for the livestream shows, he does modify his programming to account for the needs of this particular format. "Since these shows are looked at on screens, often relatively small ones, I tend to confine most movements to shots that are framing the stage, so we maintain the viewers focus," he said. "I also do very few black outs. Generally, I'm a big fan of theatrics when I'm working a club, but they can be a bit disconcerting to the viewer on a livestream.
"Since we are featuring DJs, I think we can get away with doing a lot more extravagant looks than we could if we were showcasing another type of performer," continued Morrell. "There aren't the same key lighting concerns with a DJ."
As for the DJs themselves, Morrell says they work hard at meeting the challenge of playing in an empty theatre with no crowd to draw energy from. Typically, they have cell phones open on the DJ stand so they can see comments from fans following the livestreams. Looking ahead, Morrell plans to install 90-inch monitors by the stands with Zoom features to provide more interaction between DJs and fans.
"This is all about connecting artists to the community," said Morrell. "Anything we can do to advance that goal is worth trying. We're not going to let isolation defeat us."