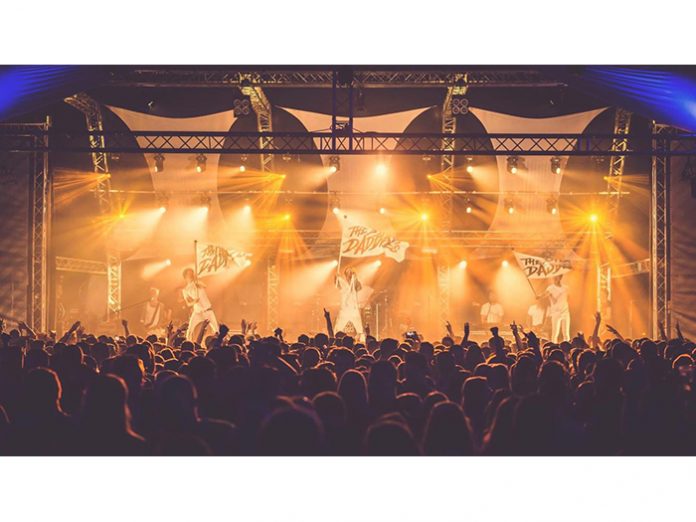 As one of the longest running festivals in the region, Pinksterfeesten in De Moer has consistently delighted fans for 37 consecutive years. Looking to keep the festival experience fresh for performers and fans alike, Mercury Audiovisueel and Oetelaar Sound Service incorporated 24 Chauvet Professional Rogue R1 Spot and 8 Rogue RH1 Hybrid fixtures into their visual concept on the main stage.
"One of the main challenges with this festival is to keep the visuals and the energy fresh and interesting year after year," commented Mercury. "The Rogues were the perfect tools. They provided surprisingly large and intense output for a fixture of such compact size and weight."
To craft a number of energy-inducing looks for headliners such as the Dirty Daddies and Buren van de Brandweer, Mercury positioned the Chauvet Professional Rogue R1 Spot units on a lattice of trussing pillars behind the stage. As a result of this formation, Mercury was able to create the illusion of depth and contrast. Drawing on the fixture's 3-facet prism and 2 gobo wheels, Mercury energised his lightshow with crisp gobo projections and atmosphere-shaping coloured runs. Additionally, the output from the punchy 140W LED fixture ensured that the DJs on stage were supported with pure visual clout.
"The R1's speed and output were perfect for creating an immersive festival atmosphere," commented Mercury. "Throughout the 2 days, we could rely on the fixtures to provide non-stop and varied visuals, which we tailored for each individual act performing on stage."
Providing an interesting visual counterpoint to the banks of R1 Spot fixtures were 8 Chauvet Professional Rogue RH1 Hybrid fixtures, which were hung from circular trussing suspended over the audience. Thanks to the beam and spot combination, the spherical formation of Hybrids provided a number of interesting visual counterpoints above the audience.
"The RH1s gave us another extremely versatile lighting tool," commented Mercury. "Despite the fact that we were running many effects such as prisms and the color wheels, the output was still extremely high.
"We chose the RH1s because of their sheer versatility in the field," continued Mercury. "The combination of beam, spot and wash with the prisms and effects at high intensity ensured that we could effectively create an interesting visual juxtaposition to the R1 Spots, and constantly vary the flavour of our looks."
Given that the festival ran for 2 days straight, it was also of paramount importance for Mercury that the specified lighting fixtures perform flawlessly throughout. In this sense, the reliability of the Rogue fixtures was just as important as factors such as features and output, and as such ensured that Mercury could rely upon the visuals throughout the 2-day party.
"We never experienced any software or hardware problems with the Rogues," concluded Mercury. "Even when one of our crew members accidentally dropped an R1 from two meters height, it still performed flawlessly!"