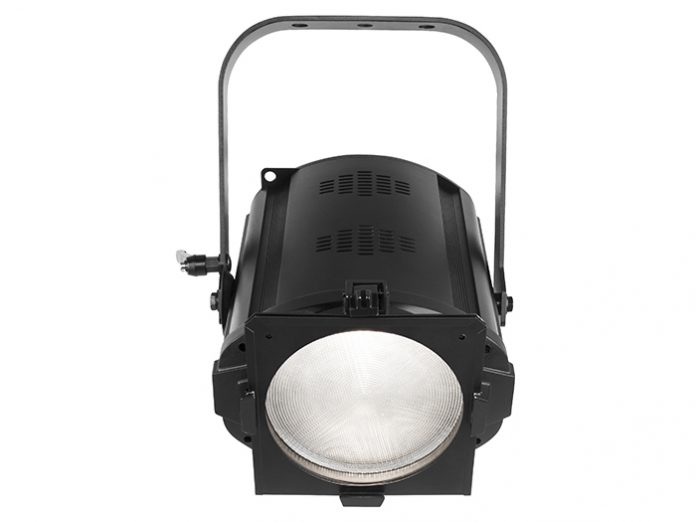 Chauvet DJ announced with an array of new products at NAMM 2017. Among the products introduced at Booth 5574 were four new effect lights, new Fresnel and ellipsoidal fixtures and advanced atmospheric effects, all of which were designed to give end-users more flexible and powerful creative options.
The Helicopter Q6 was announced as a multi-effect light designed to dazzle and energise the dance floor. It features adjustable RGBW beams, a round SMD strobe and a red/green pattern laser on a rotating base with continuous pan rotation creating unique and amazing effects. Also introduced was the FX Par 3, a compact effect par with multiple technologies in a single fixture. It includes three 8W quad-colour (RGB+UV) centre LEDs, RGB SMD LED lights and SMD strobes.
Another newcomer was the FX Array Q5, a versatile quad-colour LED wash light that features an array of RGB+UV LEDs to spread light evenly across the dance floor. Users looking for a new mirror ball effect will have the new Rotosphere Q3, an easy-to-use mirror ball simulator with quad-colour LEDs. Three LED zones emit up to three different colours simultaneously, with a slow rotation speed.
The new EVE F-50Z is an LED Fresnel fixture that shines a soft-edged, warm white spot and features D-Fi USB compatibility for wireless master/slave or DMX control. Manual zoom provides the flexibility to project from any distance. EVE TF-20 is a compact, energy efficient, soft edge LED accent luminaire that can function as a regular PAR can, while its classic Fresnel style emulates stage and theatrical lighting. Convenient barn doors are included. Its CCR (Constant Current Reduction) LED dimming ensures that the EVE TF-20 works seamlessly with conventional dimmers, and is flicker-free in filmed productions. The final introduction to the EVE series is an elegant white version of the popular E-50Z ellipsoidal.