Having spent 35 years in the live events industry – the past 15 years touring with Stereophonics as well as stints with Barenaked Ladies, The Tragically Hip, and Sarah McLachlan among other performing artists – Lighting Designer, Brent Clark is among the handful of touring veterans inside the 'NHL Bubble' in his newfound role as Lighting Programmer and Operator of NHL matches, following the widespread lockdown of live music events.
The last time Clark graced the pages of TPi was at Manchester Arena in March 2020, in the days preceding the global lockdown of live events, as Stereophonics hit European and UK venues in support of their seventh UK number one album, Kind. Following a series of gig postponements and cancellations, which eventually landed him a gig for the NHL, the Ontario native sat down with TPi to reflect on a whirlwind six months.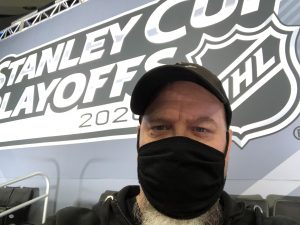 "I was in Cardiff finishing the last Stereophonics show, when the lockdown came into force. It was surreal. I don't think it really impacted me for a few weeks. I thought it would be a few weeks of shutdown or maybe a month. I didn't foresee it happening to this extent," he began. "My heart goes out to everyone and I have been donating to food banks and crew funds to try to help. I was very fortunate that Stereophonics took very good care of their core crew, so I wanted to share a bit of that love."
Coined as the 'NHL bubble', the crew reside in three hotels with walkways to the venue. "You cannot leave the bubble for any reason and nobody can come into the bubble without being quarantined," Clark noted. "We have daily COVID-19 checks and our temperature is taken and monitored every 12 hours. Above all, face masks and social distancing are mandatory for everyone."
The NHL matches marked the touring veteran's return to on-site activities, after months of career exile. "It has been a very emotional experience for me – I can't believe how lucky I am to be able to get back to work," he commented. "There are way more creative and talented individuals who are more competent than I am, who are still sitting at home, so this post is absolutely not taken for granted, and its importance isn't lost on me each day."
Joining Clark in lighting world in Edmonton, Canada, was Kurt Wagner, a veteran of the industry with over 35 years' experience touring the world, the past 15 years spent as Michael Bublé's LD. "We had just finished the New Zealand and Australian leg of Michael Bublé's world tour prior to lockdown," Wagner reminisced. "I'd just got back from Oz three days before everything went sideways. I knew it was going to be a challenging time for some time to come."
According to Wagner, despite the global pandemic, his workflow remains the same – other than being tested every day, with temperature checks taking place every 12 hours, all while donning a face mask. Having worked for Vancouver Canucks, the LD was an old hand at NHL games. "The hardest thing is being locked down in the bubble and not being able to go for a hike in some green space," he added.
In the stadium, Clark pointed out a "huge wall of lights" that span the circumference of half of the sporting arena, with 16 vertical towers spaced in between a main stage and six video screens. "There is no real 'artist' other than the team, so we make sure the rig reflects the team's colours."
The fixtures of the Solotech lighting rig included 32 Robe Robin Pointes and 18 Robin 1200 Washes, four Vari-Lite VLX Washes, 160 LTQ Solaris Flares and 13 Solaris Flares, 88 GLP X Bar 20s and 82 GLP impression X4 Bars, 96 Claypaky Sharpys, 24 Claypaky Scenius Unicos, 40 Claypaky B-EYE K20s, and 42 Elation Professional Elar Pars, with a trio of MDG The One hazers providing atmospheric effects. The house rig comprised eight CHAUVET Professional Rogue 2 Spots, 20 R2 Washes, 16 R2 Beams, 32 Martin by Harman MAC Quantum Profiles, 12 MAC Quantum Washes, a pair of MAC III Profiles, as well as 10 Atomic LED Strobes.
For control, Clark operated on an MA Lighting grandMA2 full size and a grandMA2 light. Due to the nature of the event, the LD utilised a handful of cue lists for the openings. "Other than that, it's a big busk page and I just follow along," he said. "We run lights for the opening video sequence and in stoppages, but a lot of it is just sitting back and watching the games."
As well as lighting the way for a series of NHL fixtures, Clark explained how else he was staying busy in lockdown – by learning and enhancing his pre-existing video editing skills. "I have also been working on some ideas and I keep working on my drawing skills. I now have a surplus of staging and lighting ideas if anybody is looking," he explained.
"I am hoping to be back at regular life by Spring, but that seems optimistic at this point. I know a few of the artists I tour with regularly have plans for next summer, so my hope is that we can get back to work next Spring, where we'll all be complaining about having too much work to do!"
---
This article originally appeared in issue #253 of TPi, which you can read here.