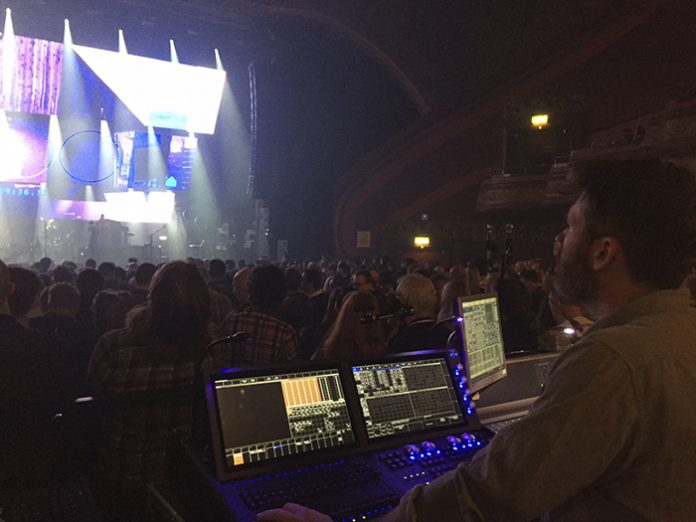 Fans looking for intensity are never shortchanged when they see The National. Raw and powerful, the 2017 Grammy-winning band takes an uncompromising head-on look at the human condition, matching their jagged, complex music with a fearless, never-predictable stage presence.
While some might be unsettled by the band's unyielding form of expression, others find it to be a cathartic experience. These devotees don't go to The National's shows in droves to escape life, but instead to have its cover torn off, so they can get a glimpse, however fleeting, of what lies below.
Providing an appropriately intense visual backdrop for the band on its current global tour in support of its seventh album, Sleep Well Beast, is a 13-universe Michael Brown-designed lightshow that is being run with a ChamSys MagicQ MQ500 Stadium console. The Nashville-based LD, who has been a ChamSys user since 2009, selected the MQ500 for this tour because the power and versatility of the console, particularly its effects engine, allow him to pull together diverse visual elements to match his client's distinctive sound.
"The National are a unique band," said Brown. "Their music and performances can vary from very intimate textural moments to all-out eruption. Their front man Matt Berninger embodies the escapism of a true performer. He can go from contemplative to this madman on stage amidst the dense backdrop of a mixed meter ballad and complex orchestration."
Describing his longtime client's performance as "extremely dynamic with music that lyrically portrays the real struggles of mid-life," Brown had this to say about his lightshow on the current tour: "We're not a super bright bubblegum rock show. The atmosphere for our shows is moody, with extremely high contrast and deep colors to match the emotional tone of the songs. This tour offers me a great environment to work in as a designer, because the inherent drama of The National's performance gives me the opportunity to react to the music and make bold statements."
At the centre of Brown's design are 3 40' x 8' video walls. Most of the 320 fixtures in his rig are set up behind these structures. "This show is extremely video driven with multiple video elements — and that's where we began with the design," he said. "I co-designed all the video content with my incredibly gifted video director Ben Krall. I then developed lighting concepts and programmed the show while he worked with the content and composed the live camera elements."
Brown designed the show with the ChamSys MagicQ MQ500 in his Nashville studio with a full media server setup, feeding signal into LIGHTCONVERSE. He then programmed the rest of the show over 2 days in Copenhagen, where his lighting and video vendor Litecom is located. The touring show design has 3 configurations: one to work at arenas, another for theatres, and the third for large clubs. For festivals, Brown and his team are either traveling with their full production setup or augmenting their overhead rig with flown video and floor elements. He uses 10 Art-Net universes to control the lighting rig and 10 Art-Net universes to control media playback.
Regardless of configuration, the ChamSys MagicQ MQ500 has been driving Brown's rig at all stops along the tour. "The MQ500's effects engine, with its 3-colour and 4-colour effects, has been everything to me," he said.
"There are several key aspects about the ChamSys platform that I've always loved and incorporate in all of my shows. The ability to offset pan/tilt on fixtures has been a huge time saver at festivals over the past nine years. But most importantly, the way that I prefer to construct shows is based on multi-step palette-based effects. Colour is important to my shows. I don't want to be limited to a high/low value on an editable wave-form. I want an unlimited number of values on an editable waveform! With ChamSys, I can create multi-step colour and position effects that constantly cross-reference my palettes."
Referencing palettes over an editable waveform speeds up programming significantly, according to Brown, who also praised the ChamSys MagicQ MQ500's user-friendly layout. "The MQ500 is a huge step up, in terms of both hardware quality and layout of the console," said Brown. "Multi-touch capacitive screens are such a nice luxury. So far, I'm loving the console and feel it's the perfect size for any kind of show.
"The console is also very good for busking," continued Brown. "The National doesn't play to backing tracks, and we've played 87 different songs so far on this tour so there is definitely a situation each night where I have to busk at least two songs."
Understanding the flow of his client's performance has become second nature for Brown, who has been working with the band for 7 years. "I met Bryce and Aaron Dessner (of The National) at Glastonbury while I was working for another Brooklyn-based band, Grizzly Bear. The National saw a couple of shows that I had done for Grizzly Bear. At the time, they had just released High Violet and were looking to develop their show visually. Somehow my touring schedule lined up with theirs and we've been together ever since. It's been a great journey, because we keep pushing out in new directions."