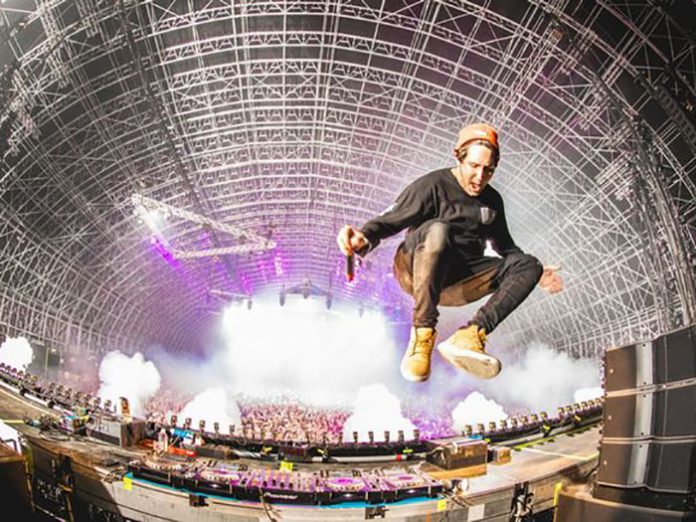 Britannia Row Productions took on the audio requirements for the North and South stages along with the Steel Yard using an L-Acoustics K1 / K2 system for this year's Creamfields Festival.
The Steel Yard was a new venue for Creamfields and Britannia Row Productions alike. Specially commissioned by LarMac Live, the Steel Yard has an enviable capacity for festival-goers, and has a ceiling at of 20m at its apex. This allows for weather proofed and festival-sized entertainment but also enclosed audio, lighting and AV effects. Substantial numbers of L-Acoustics K1's, K2's, KARAs, ARCs supported by KS28 Subs were more than up to the job, and the directivity of the K Series enabled the required SPL without spill; an important element on a site with multiple stages.
Dave Compton was Project Manager: "At events like this, teamwork is always the most important factor. Britannia Row Productions has been providing audio for Creamfields for some years now and we have a good relationship with the production team, which goes a long way in making the weekend run smoothly. There are always challenges – the weather can, and does, often work against us – but that's the nature of festivals. Laurie Fradley was our Crew Chief and we had three distinct crews so that each stage worked as an individual event."
The North and South stages featured identical systems with L-Acoustics K1 and KS28 subs. For control at FOH, there was a DigiCo SD10 and a Yamaha QL1 console on stage.
The South stage saw Avicii headline on the Saturday night, performing his last ever UK show. Avicii's FOH Engineer Wayne 'Rabbit' Sergeant was on duty for the show. "The service we receive from Britannia Row Productions as a visiting act, whether or not we are headlining, is second to none. I admit to being a long-term L-Acoustics fan, and this rig didn't disappoint. I've used the new KS28's this season and have been really impressed with their performance. They never fail to amaze me with the amount of detail you can hear in the mix – their tone, the effortless power handling and their control. It all results in a very natural sound."