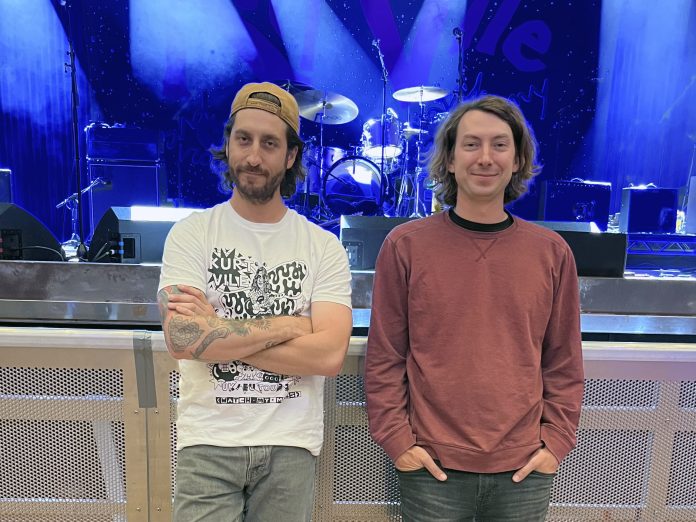 Following on from a Spring visit to Australia and New Zealand, Kurt Vile and The Violators descended on venues in the UK and Europe touring in support of the 2022 studio album, Watch My Moves.
FOH Engineer, Aaron Brody began working with Vile six years ago, and as of last year, has been pulling double duty as Tour Manager. "We've been with Brit Row since I started working with Kurt when I was originally mixing monitors. He's the first artist I've toured with overseas, and this has given me the ability to rent a production package," he said.
"I love working with Brit Row; the prep days in their shop are the best! It's important to know, when you're mixing and tour managing, that your gear is going to be right for the job. I try to be as specific as I can, down to the length of cables, and I know on arrival at Brit Row that everything will be in place, exactly how I've asked for it."
Brody requires a small yet perfectly defined rider, packaged with precision, thanks to Brit Row Account Executive Dave Compton's expertise. "I used to take a lot more outboard out with me, but over the years, I've really paired it back, and I find that works for Kurt's mix. I've been diving deeper into the world of snapshots because I think there's a higher value to a mix in snapshots than there is in a bunch of fancy toys. This allows my mix to translate no matter where I am in the world."
He continued: "In that sense, I'm relying more on what my desk has to offer, rather than extra elements. I'm focusing on system control and system processing, which I tend to do through the Lake LM44. I also like Rupert Neve Designs' Master Buss Compressor. In fact, I never leave home without that!"
The desk Brody is relying on is a recent switch to a DiGiCo SD12 with SD Rack. "I like the sound of a DiGiCo desk. It has this sort of British charm, and I'm having a blast on it. It can really show you where you're at as an engineer, and I think I've grown into being able to use it. It's been a positive swap for the band," he added.
Brody explains his mix is "good straight out of the desk", given that they're using house PAs across this club circuit. "I just tune the room as best I can, and we run a virtual sound check every day. My favourite thing about the console is its flexible layout, and the custom banking, which works better for my workflow. The dynamic EQ on every input channel in Groups is incredible, that's a real selling point for me. You can't do that on other desks without the use of plug-ins, and it also helps to control the mix. The warmth and the tube emulations are great if used, too."
A keen multi-instrumentalist, Vile has used a Telefunken M80 for many years, while a microphone package comprising Shure, Sennheiser, Behringer and Beyerdynamic are spread stage wide for his Violators. Vile plays acoustic and electric guitars while singing, and his four-piece live band switches between bass, keys, and guitar.
Brody describes this live arrangement as "entirely different" to the records. "The albums are nothing like the live show; I asked Kurt about this early on, the way he wanted it to sound, and the aim is to be a lot more 'in your face', with big guitars and bigger drum sounds. I describe it as wider and more hi-fi."
In monitor world, new crew member Erich Miller is enjoying his first outing with Brit Row. "I live in Philadelphia, about an hour from Clair Global, so although I've known a lot of people that have worked for them, I didn't know Brit Row personally before this tour. If a company is associated with Clair, I know that we'd be very well taken care of, and we absolutely have been."
Miller has inherited an Avid Venue S6L, a desk he says has been a long-time preference.  "I've used Avid for years, so I find it does whatever I want it to. The scene management is straightforward, and as I've got to know the band and learn what they like individually, I adjust and save it on the fly so the next day I can recall it quickly. We multi-track the shows, and because we do virtual sound check, I can go through and make any adjustments to the scenes I need to later. I see my job as making sure that everyone is comfortable on stage. The last thing you want to do as a monitor engineer is fish through a bunch of stuff to solve a problem. Whatever they need, I like to have it at my fingertips," he added.
"The whole experience has been great. On my first prep day at Brit Row, when I was in the back of the rack putting my stuff together, a freelancer named Stacey Handley came over to do it for me. By the time I could even finish my thought about what I wanted to go where, she was already pulling the connectors out and adapting the rig just as I wanted! The service is fantastic."
Brody closes by explaining that there's an "honesty" in the Kurt Vile camp, which has encouraged him to step into his dual roles, and to bring Miller into the fold. "It's just an easy-going tour," he said. "It's not the biggest gig in the world, it's not the smallest, but management let me bring the control package I want, no questions asked. And to work with a company like Brit Row, which I totally trust to deliver it, well, there's freedom in that. Ultimately, we're all just having a good time together!"